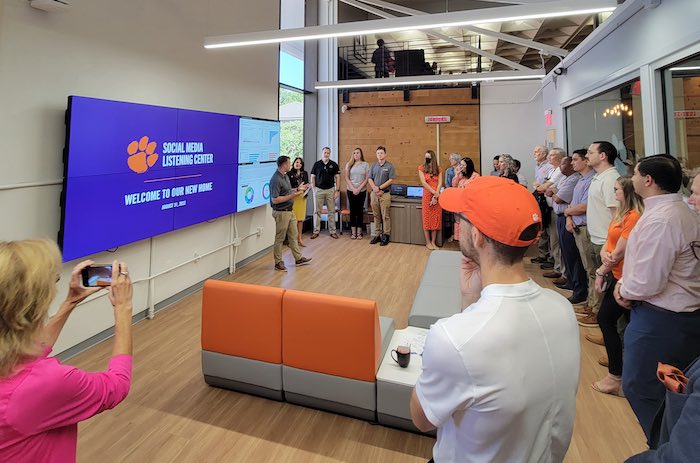 The Clemson University Department of Communication is committed to educating and producing leaders who can navigate the challenges of an ever-changing global community. The department espouses an environment of collegiality and collaboration and aims to achieve goals for inclusive excellence set forth by the Clemson Elevate strategic plan.
Housed in the College of Behavioral, Social and Health Sciences, the Department of Communication offers three academic degree programs: a BA in Communication, a BA in Sports Communication, and an MA in Communication. The department also offers a graduate certificate in Health Communication, minors in Communication and Sports Communication, and serves the university through two introductory general education communication courses that serve over 3,000 students each year. The department is affiliated with Clemson University's Robert H. Brooks Sports Science Institute, a multi-disciplinary platform for the academic study of sport sciences across the University, and houses the Charles Campbell Professorship in Sports Communication. The department also is home to student-run operations for television, radio, newspaper and two magazines under the banner of Tiger Student Media. We also have the Social Media Listening Center, Communication Center and Research Lab, a nationally and internationally-recognized debate team, and student study abroad programs. 
A Brief History
The history of Clemson University's Department of Communication dates back to the 1980s when Communication courses were taught in the Departments of English and Performing Arts in the College of Liberal Arts. A Department of Speech and Communications was created in 1995 in the College of Architecture, Arts and Humanities, a new college created after a comprehensive university reorganization that same year. In the early 2000s, the department was renamed the Department of Communication Studies and, over the next 15 years, the department added new faculty, launched a new undergraduate degree in sports communication, opened a Social Media Listening Center, reinvigorated the debate program, and launched a new master's degree program. During an academic college reorganization in 2016, the newly renamed Department of Communication joined the new College of Behavioral, Social and Health Sciences.
Approximately 40 faculty (14 tenured/tenure-track, 17 full-time non-tenure-track, and several adjunct faculty), 325 undergraduate majors, 300 undergraduate minors, 20 graduate students (nearly all on funded assistantships), and three staff members study and work across the department's programs and engage through its facilities and co-curricular initiatives.
Department of Communication
Department of Communication | 408 Strode Tower