Clemson Traditions
Join the Clemson Family, and you join a tradition of tremendous impact. Discover the humble beginnings, ambitious mission and heartfelt connection that Tigers feel each time they take part in one of the University's rituals.
Clemson traditions celebrate determined spirit.
SOLID ORANGE
Every Friday, Clemson students, faculty, staff and alumni everywhere can be found wearing Clemson orange in a show of unity and pride!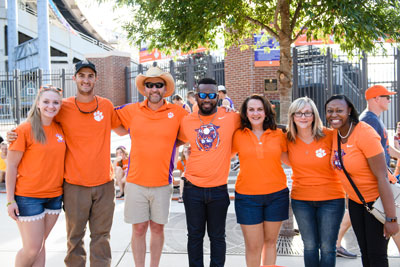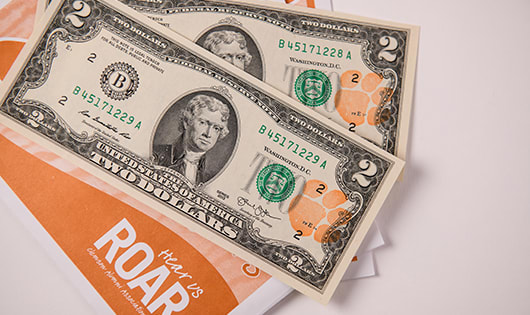 $2 Bills
In 1977, Georgia Tech decided to stop playing football against Clemson. In a show of protest, students and alumni stamped $2 bills with Tiger Paws and used them in Atlanta to illustrate the money Tiger fans spent at athletic events. Today, Clemson fans still use $2 bills when attending away games to show the impact of the Clemson Family across the country.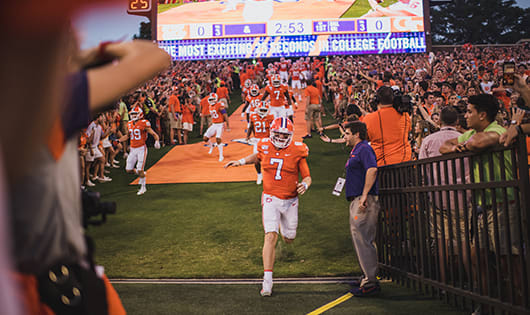 Running Down The Hill
Known as the most exciting 25 seconds in college football, running down The Hill began out of practicality. The football team dressed at Fike Field House and ran from there to the gate and down the grassy hill onto the field at the start of each game.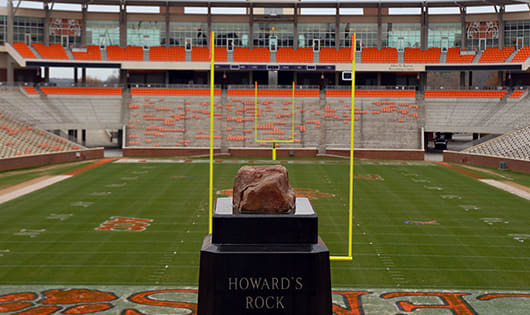 Howard's Rock
The rock, originally from Death Valley, California, was first placed on a pedestal at the top of The Hill in 1966, but it did not become tradition until just before a football game against Wake Forest on September 23, 1967. Legendary coach Frank Howard told his players if they gave 110%, they could receive the privilege of rubbing the rock. The team won, and now football players rub it for luck as they run down The Hill to the cheers of thousands of Clemson fans.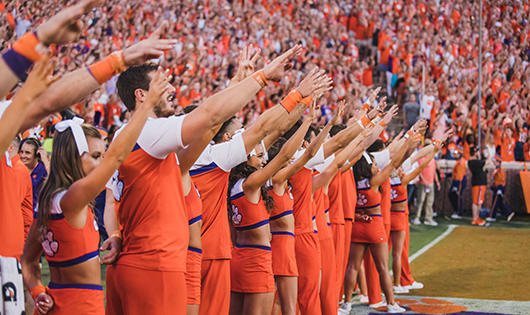 Alma Mater Salute
During Clemson's early military days, freshmen wore rat caps and waved them in the air during every football game. Today, at the conclusion of singing the alma mater, students and alumni still wave their hands in the air with thumbs folded underneath as though holding a cap.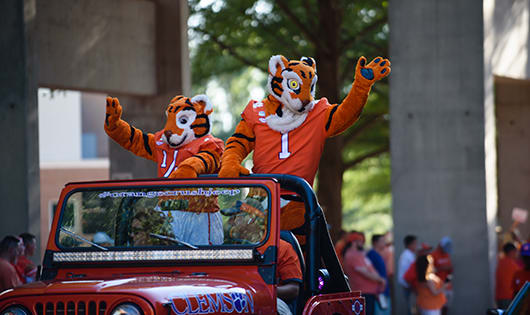 First Friday Parade
Since 1974, the First Friday Parade has heralded in each new football season. Students, fans and alumni gather for the parade on the Friday afternoon before the first home football game.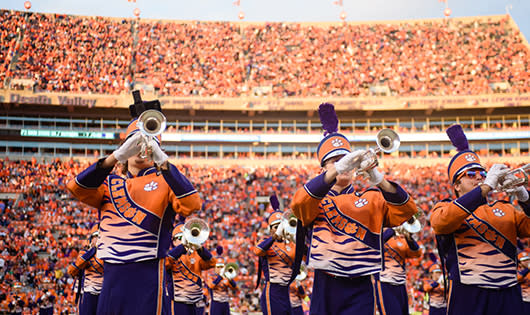 "Tiger Rag"
In 1942, student band director Dean Ross found the sheet music for "Tiger Rag" in an Atlanta music store and brought it back to campus to play at football games. "Tiger Fanfare" by band director Mark Spede was added in 2003, and today, the band has more than 15 ways to play what's known as "the song that shakes the Southland!"
Clemson Traditions Foster Relationships That Last a Lifetime.
The Clemson Ring
Since 1896, Clemson graduates have taken pride in wearing their Clemson rings. Clemson rings are designed to honor the land-grant mission, military heritage and connection that ties all Clemson alumni together with the motto, "Who shall separate us now?"

Gathering on Bowman Field
Named for baseball coach R.T.V. Bowman, the coach of Clemson's first sports team, the wide field separating campus from the town of Clemson originally served as the traditional parade ground for Clemson cadets, and it is still an unmistakable part of student life. ROTC cadets still conduct drills on Bowman Field throughout the year, and students gather on Bowman Field to relax, play and celebrate special events.
Homecoming and Tigerama
The excitement, spirit and enthusiasm of Homecoming celebrations have been a Clemson tradition since 1914. During the week preceding the game, Clemson alumni from across the country return to campus. Student organizations build Homecoming displays and construct a house for Habitat for Humanity on Bowman Field. The last event is Tigerama, one of the nation's largest student-run pep rallies. Tigerama began in 1957 and has drawn a crowd of Tiger fans ever since for skits, fireworks and the crowning of Miss Homecoming.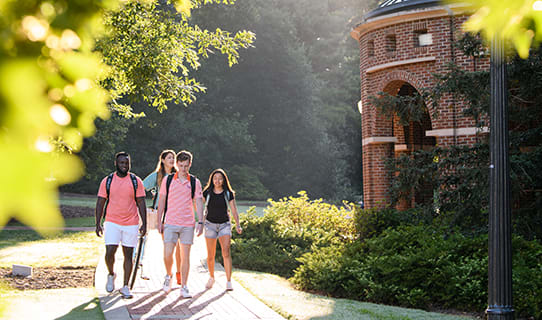 Lover's Lane
Campus legend is that couples who walk hand-in-hand through President's Park will marry.
Clemson Traditions Honor Key University Contributors.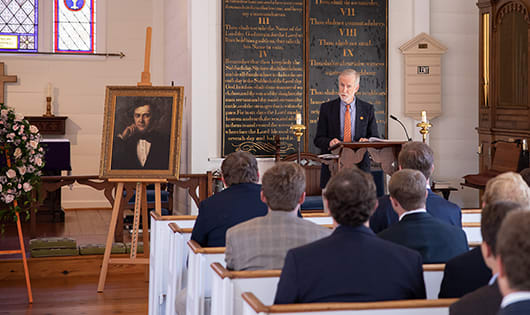 Founder's Day
Clemson University founder Thomas Green Clemson died on April 6, 1888. To commemorate his contribution to the University, a Founder's Day ceremony is held each year that includes a prayer service at St. Paul's Episcopal Church in nearby Pendleton, where he is buried.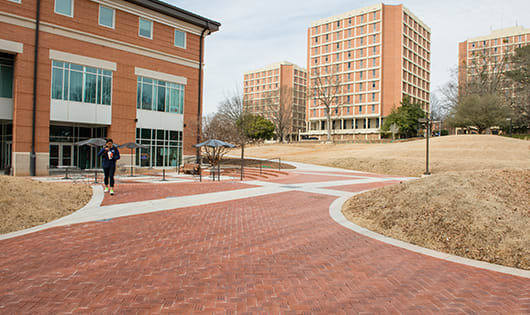 Senior Sidewalks
Walk around campus and you'll see names engraved on the sidewalks underfoot. In the 1950s, graduating seniors began raising money to build sidewalks, imprinting their names and, thereby, their legacy in them. Today, the names of more than 53,000 alumni have been engraved.
Clemson Traditions Make Life Sweet.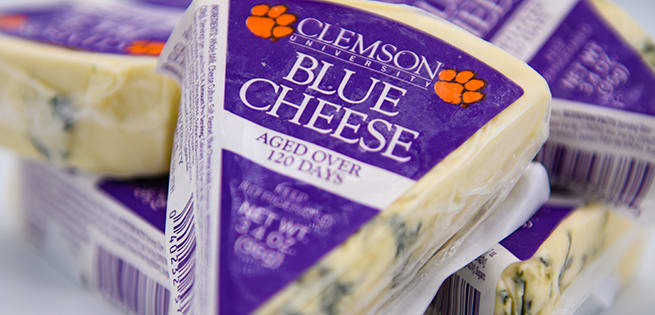 Clemson Blue Cheese
Clemson Blue Cheese was first cured in the Stumphouse Tunnel outside Walhalla in 1941 by a Clemson dairy professor who recognized the tunnel's perfect conditions for curing. In 1958, the curing process was moved to the Agricultural Center in Newman Hall. Today, you can buy the blue cheese at the '55 Exchange store on campus, in local grocery stores and online.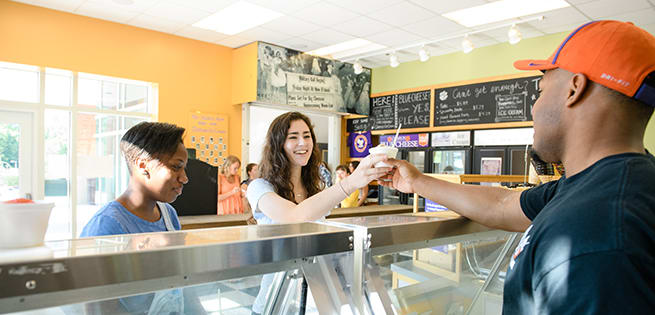 Clemson Ice Cream
In the 1920s, Clemson's then-departments of dairy science and animal husbandry began making the famously delicious Clemson ice cream. Today, the student-run '55 Exchange store on campus scoops world-renown, student-made Clemson ice cream.