Clemson Elevate: Our Bold Strategy for Clemson
Clemson is among the nation's most accomplished public universities. We hold our own against some of the best schools anywhere. What's more important, though, is how our people — students, faculty, staff, alumni and stakeholders — also hold themselves to the highest standards in the world's classrooms, its boardrooms and beyond.
The benchmarks and goals of Clemson Elevate were built with input from many key people: faculty and staff, college deans, the University's Executive Leadership Team (ELT) and focus groups inside and outside of Clemson University. Input and direction from our Board of Trustees has lent support for this plan at the highest levels of our institution.
And now, with the involvement of students, alumni, industry collaborators and government stakeholders, we can begin to implement the strategies that will advance these high ideals far into the future.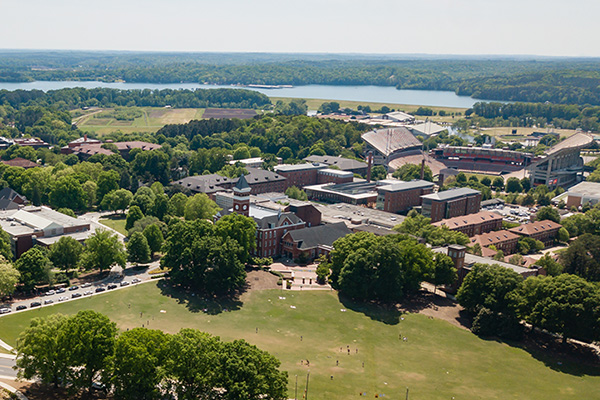 Propel Success and Strengthen Our Reputation
The Clemson Elevate plan will be implemented over a 12-year period. Three pillars build on areas where the University already exhibits strength.
Deliver the No. 1 Student Experience
Excel in experiential learning, amplify academic success and promote the Clemson Experience.
Double Research by 2035
Build an AAU-aligned faculty to address societal needs, create world-class research infrastructure and leverage Innovation Campuses and partnerships.
Transform Lives Statewide and Beyond
Enhance educational and economic opportunities; improve agriculture, natural resources and animal health; and improve health outcomes for South Carolinians.
We asked, is it
A current strength?
A future opportunity?
A strong return on investment?
An existing facility?
Ph.D. education-focused?
Interdisciplinary?
Focus areas that answered "yes"
Academic success and experiential learning.
AI/data science/cybersecurity.
Ecosystem/digital water.
Human performance.
The Clemson Experience.
Energy transformation and advanced manufacturing.
Agriculture food systems and environmental resilience.
Future of learning and work.
Precision medicine/human genomics.
Rural health initiatives.
Neuroscience to neuroengineering.
Emerging infectious diseases.
Future advanced materials.
College of Veterinary Medicine.
Clinical facilities/care transformation.