Clemson University Parking and Transportation Services is committed to providing the best possible service with the greatest amount of flexibility and convenience to the University community.
The following pages serve as a resource for transit options, parking guidance, campus traffic updates and more. You can visit our office in person on the ground floor of the University Union or contact customer service representatives by phone or email.
Choose Transit
Scan your CUID when riding eligible routes to earn Paw Points and other prizes this Fall!
Choose Transit
Announcements
Due to an ongoing issue with the University's Payment Gateway for online payments, we are unable to do online transactions. If you need to purchase a permit to park, all transactions for parking or transit permits must be handled in our office. If you are paying a parking citation you may mail in your payment or pay in our office.

Our office is located in G-01 Edgar Brown Union, and we are open Monday - Friday 7:30am to 4:30pm.

We apologize for any inconvenience this may cause and hope to have the issue resolved quickly as possible.

Commuter Parking is getting tighter due to temporary construction related closures. But Commuter Parking Options still exist.

Choose Transit Campaign returns Wednesday, Jan 11 with more prizes! Stay tuned. 
C-3 Parking Lot is temporarily closed for construction. Effective Monday, Nov. 28, the parking lot at the West End Zone will be closed for construction. Residents, Commuters, and Employees must use alternate parking. View the alternate parking instructions.
Commuters, don't be late to class.

 

Park in one of over 600 available spaces in P5, P7, and P8. Use the East Park-N-Ride route route which comes every 10 minutes (peak) and 15 minutes (off peak). The bus takes you to East Library Circle.
See the latest on campus construction on the Facilities

 

Road Work interactive map.
Push Alerts
Brooks Towing Starts @ 6 PM Today (1/24)

Reminder: Towing begins at 6 PM tonight from designated spaces in C-11.

Tiger Commute is experiencing delays (1/12)

Due to weather and traffic collisions along I-85, the Tiger Commute route is experiencing delays this afternoon, Jan 12, 2023. Monitor the buses on the My.Clemson app.
my.Clemson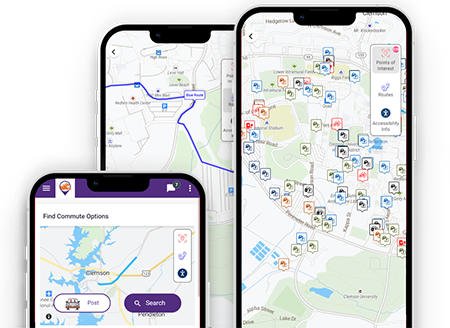 my.Clemson makes connecting with Clemson a cinch. From a smart phone, tablet, or computer, it's easy to get information and get things done. With my.Clemson get real-time bus tracking and parking availability at your fingertips. And subscribe to the Push Notification Channels for instant Parking and Transportation alerts. Visit my.clemson.edu or download the app below.
Download on the Apple App Store
Download on the Google Play Store
Parking & Transportation Services
Parking & Transportation Services | 113 Union Drive - G01 Edgar Brown Union, Clemson, SC 29634