Clemson University Parking and Transportation Services is committed to providing the best possible service with the greatest amount of flexibility and convenience to the University community.
The following pages serve as a resource for transit options, parking guidance, campus traffic updates and more. You can visit our office in person on the ground floor of the University Union or contact customer service representatives by phone or email.
Football Parking Guidance
General Admission Football Parking Permits
Push Alerts
Calhoun Drive Closed Oct 3 from 4p to 8p

Calhoun Drive, between Parkway Drive (Sikes Lot entrance) and Fort Hill Street, will be closed for the National Night Out event on Tuesday, Oct 3. Set up begins at 4 p.m. Event is from 5-7 p.m. The road will reopen as soon as the event has concluded and the road is cleared.

Posting of Winter Break Airport Shuttles Delayed till 12pm, 10/03/2023

The posting of winter break airport shuttles is behind due to technical difficulties and will be posted @12pm today, 10/03/23. We apologize for the delay and any confusion as we are working to get the issue resolved.
my.Clemson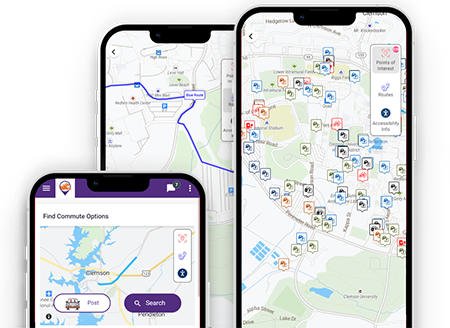 my.Clemson makes connecting with Clemson a cinch. From a smart phone, tablet, or computer, it's easy to get information and get things done. With my.Clemson get real-time bus tracking and parking availability at your fingertips. And subscribe to the Push Notification Channels for instant Parking and Transportation alerts. Visit my.clemson.edu or download the app below.
Download on the Apple App Store
Download on the Google Play Store
Parking & Transportation Services
Parking & Transportation Services | 113 Union Drive - G01 Edgar Brown Union, Clemson, SC 29634