Carpool Permits
To reduce traffic and improve air quality in the Clemson area, Parking and Transportation Services offers carpool permits to groups of two or more students or employees with similar commuting schedules. The program provides discounted or free permits and convenient parking locations across campus in addition to creating a more sustainable campus.
Carpool permits may take up to three business days to process and may take longer the first week of the semester.
Students and employees must purchase and display valid annual or temporary daily commuter or employee permits as needed to park on campus while they wait for their carpool applications to be processed. You may NOT park in a carpool space until you receive and display your new carpool decal.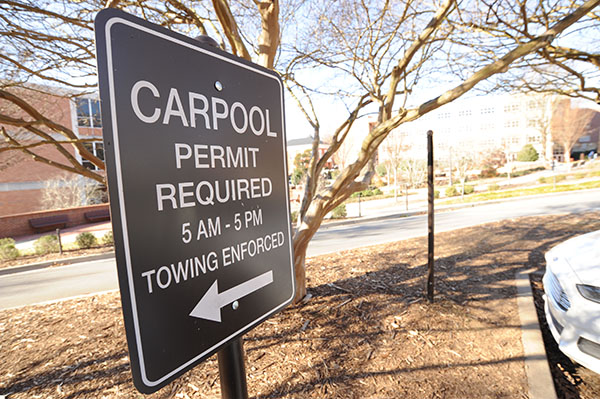 How It Works
Each carpool group will receive one carpool hangtag that can be used on any vehicle registered to the group. Each individual participant in the carpool will receive a carpool permit decal like regular permits to place on their own vehicle. Any vehicle in the same carpool group may be used as long as the group's sole carpool hangtag is displayed and the carpool permit is placed correctly.
The carpool hangtag must be displayed hanging from the rearview mirror. The carpool permit must be permanently affixed to the outside left rear window or bumper.
The current vehicle being used to carpool must display the carpool hangtag and decal while parked in a carpool parking space. Vehicles registered in the Carpool Program cannot park in the 24-hour employee spaces.
Each participant is allotted five temporary permits every semester. If a participant in a carpool needs to drive separately from their registered carpool group, they are expected to use their temporary permit to park for the day, and they must park according to their normal designation (NOT in a carpool space). Participants may also purchase additional temporary permits at the standard rate of $4 per day. Vehicles parked in a carpool space with a temporary permit will be towed at the owner's expense. After 5 p.m., individuals may park their vehicles in an appropriate commuter or employee space until 7 a.m.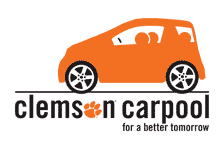 Space Locations
Carpool spaces are located in the following areas:
Cost = $0 for Spring 2023
Commuting student — $50 per semester per member
Range 1 faculty/staff — $7 per semester
Range 2 faculty/staff — $24 per semester
Range 3 faculty/staff — $44 per semester
Range 4 faculty/staff — $55 per semester
Range 5 faculty/staff — $66 per semester
Range 6 faculty/staff — $70 per semester
Range 7 faculty/staff — $72 per semester
Range 8 faculty/staff — $77 per semester
Range 9 faculty/staff — $121 per semester
Permits are free for groups of two or more participants.
Carpool permits must be paid for in the Parking and Transportation Services office and cannot be paid through payroll deduction. Upon payment, each participant will receive a carpool decal to be placed on his or her personal vehicle and five temporary commuter or employee parking permits. One shared carpool hangtag will be issued to the group.
Eligibility and Application