Football Parking Permits
Fans without IPTAY memberships can purchase single-game general admission football parking passes for use in the C-1 or P-8 lots online before game day or when they arrive at the lots to park.
Note: Vehicles larger than 12 passenger vans are not permitted.
See 2023 general admission football parking details on this page and visit IPTAY's Football Gameday Guide for a map and more information on IPTAY general football parking. 
2023 General Admission Football Parking
C-1 Parking Lot 
$30 per space 
This lot is accessible from Perimeter Road and is a general admission paid lot. Aisles 1-4 of the lot are reserved for IPTAY parking only with Aisles 5-12 available for general admission paid parking. All non-IPTAY vehicles entering the lot will be charged $30 for parking in the lot. 
All vehicles must move out of the lot by two hours post game. Any vehicles remaining in the lot after two hours may be subject to tow. 
Shuttle service from C-1 
A shuttle is available from this lot to the Academic Success Center from when the lot opens until one hour after kickoff. No postgame shuttles are offered. 
P-8 Parking Lot 
$20 per space 
This lot is accessible from Hwy 76 or Vineyard Road and is a general admission paid lot. This lot features covered parking by solar panels. Due to the solar panels, no grills are permitted in the lot. Tents and tailgating are permitted, but grilling is not.  
All vehicles must move out of the lot by 2 hours post game. Any vehicles remaining in the lot after 2 hours may be subject to tow. 
No Shuttle Service from this lot. 
There is no shuttle service from this lot pre- or postgame. All patrons will have to walk to and from the stadium.  
Additional Parking Options
Payment Methods
All car single-game pass holders MUST present a printout of the receipt to gain admission to the lot, and the license plate number of the vehicle must match the receipt. No refunds will be issued.
Cash, credit or debit cards (Visa, MasterCard, Discover, American Express) and prepaid permits are accepted.
If paying to park on game day, please have payment in hand when you approach the parking attendant. Cash is the preferred payment in the lot as credit card machines may be affected by loads on the cellular network. Prepayment guarantees your space on game day!
2023 Home Football Schedule
September 9: Charleston Southern (Football Reunion Day & Land Grant Day). 
September 16: Florida Atlantic (Family Weekend).
September 23: Florida State (Hall of Fame Day). 
October 7: Wake Forest (Homecoming & Breast Cancer Awareness Game). 
November 4: Notre Dame (IPTAY Day).
November 11: Georgia Tech (Military Appreciation Day & Purple Out).
November 18: North Carolina (Senior Day).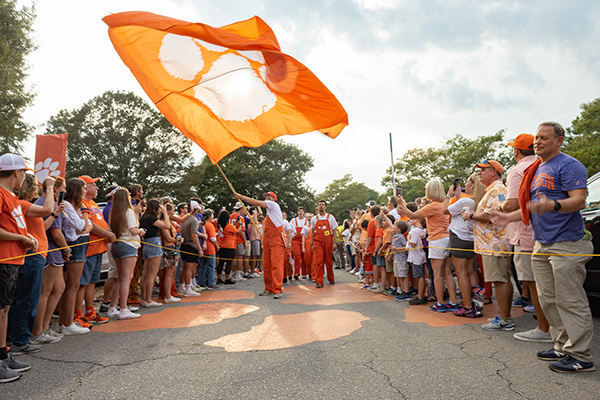 2023 Football Parking Policies
General Policies
The resale or reproduction of any passes will result in your pass being revoked and potential criminal charges.
The parking lot opens at 6 a.m. for noon games and 8 a.m. for all other games.
Tailgating is allowed 5 feet behind each vehicle into parking aisle. Any tailgating activity that limits the ability of the parking attendant to efficiently park all cars will be asked to move. Saving space(s) is not allowed.
Pets are welcome, provided they are wearing/displaying ID and current rabies tags and are always kept on a leash. Pet owners are required to clean up after their pets.
Clemson University assumes no responsibility or liability for lost or stolen items or damage to your vehicle during its stay. Owners assume full responsibility for their property.
Overnight parking is not allowed.
Golf carts, mopeds, motorcycles and scooters are prohibited inside the interior of Clemson's parking areas unless they have the proper credentials. Golf cart passes are issued to University vehicles, vendors and working staff; these are not for sale or general distribution.
Portable generators are allowed if they are rated at 70dB or lower so as not to disturb other tailgaters. No bands, large speakers or PA equipment that disturbs others.
Solicitations of any kind are prohibited. Items will be confiscated, and you will be removed from the campus.
Car or van parkers who fail to abide by these policies may be asked to leave the property at any time without refund.
Parking & Transportation Services
Parking & Transportation Services | 113 Union Drive - G01 Edgar Brown Union, Clemson, SC 29634