Research Park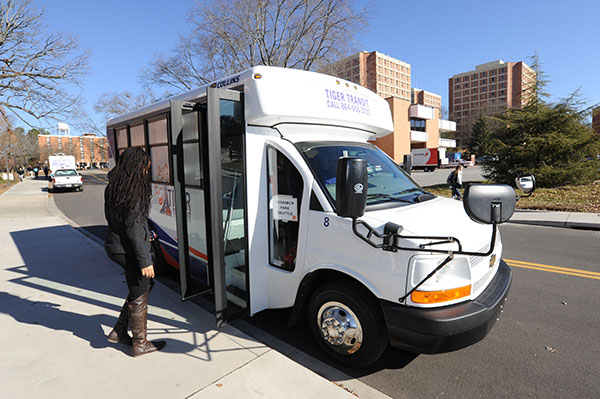 Current Schedule
Research Park Route Full Schedule*

| Depart Edwards Hall for Research Park | Depart Advanced Materials Research Lab (AMRL) | Depart Rich Lab | Depart Information Technology Center (ITC) | Depart Library Depot |
| --- | --- | --- | --- | --- |
| 8:00 AM | 8:30 AM | 8:32 AM | 8:33 AM | 8:36 AM |
| 9:00 AM | 9:30 AM | 9:32 AM | 9:33 AM | 9:36 AM |
| 10:00 AM | 10:30 AM | 10:32 AM | 10:33 AM | 10:36 AM |
| 11:00 AM | 11:30 AM | 11:32 AM | 11:33 AM | 11:36 AM |
| 12:00 PM | 12:30 PM | 12:32 PM | 12:33 PM | 12:36 PM |
| 2:00 PM | 2:30 PM | 2:32 PM | 2:33 PM | 2:36 PM |
| 3:00 PM | 3:30 PM | 3:32 PM | 3:33 PM | 3:36 PM |
| 4:00 PM | 4:30 PM | 4:32 PM | 4:33 PM | 4:36 PM |
| 5:00 PM | 5:30 PM | 5:32 PM | 5:33 PM | 5:36 PM |
| 6:00 PM | 6:30 PM | 6:32 PM | 6:33 PM | 6:36 PM |
*Please note that these times are subject to prevailing traffic conditions. It is expected that the bus will arrive no earlier than what is posted above.
HOURS OF OPERATION 
During the semester, this route operates hourly Monday through Friday from 8 AM to 7 PM with a break at 1 PM. During the summer and holiday breaks, this route operates Monday through Friday from 8:30 AM to 11:30 AM and 3 PM to 6 PM. 
Route stops and map
The shuttle departs Edwards Hall at :00.
The pickup order in Research Park for the :30 departures is AMRL, Rich Lab, ITC, Library Depot.
The campus drop-off point is between Edwards Hall and Hendrix Student Center at approximately :50.