Bridge Route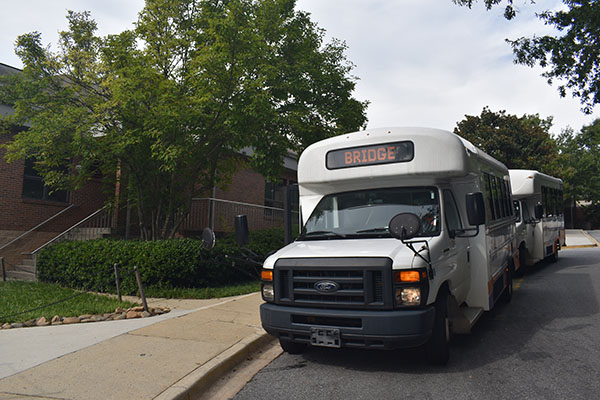 Bridge Route Schedule
Bridge Route Schedule

| Depart Lightsey Bridge Commons | Arrive TCTC @ Miller Hall | Depart TCTC @ Miller Hall |
| --- | --- | --- |
| 7:15 AM | 7:25 AM | 7:25 AM |
| 7:35 AM | 7:45 AM | 7:45 AM |
| 8:05 AM | 8:20 AM | 8:20 AM |
| 8:40 AM | 8:55 AM | 8:55 AM |
| 9:15 AM | 9:30 AM | 9:30 AM |
| 9:50 AM | 10:05 AM | 10:10 AM |
| 10:20 AM | 10:30 AM | 10:30 AM |
| 10:45 AM | 11:00 AM | 11:10 AM |
| 11:25 AM | 11:40 AM | 11:40 AM |
| 11:55 AM | 12:10 PM | 12:10 PM |
| 12:25 PM | 12:40 PM | 12:45 PM |
| 1:15 PM | 1:30 PM | 1:35 PM |
| 1:55 PM* | 2:10 PM | 2:10 PM* |
| 2:30 PM | 2:45 PM | 2:45 PM |
| 3:05 PM | 3:20 PM | 3:20 PM |
| 3:40 PM | 3:55 PM | 4:00 PM |
| 4:20 PM | 4:35 PM | 4:40 PM |
| 5:10 PM | 5:30 PM | 5:35 PM |
| 5:55 PM | 6:10 PM | 6:15 PM |
| 6:40 PM | 6:55 PM | 7:10 PM |
| 7:30 PM | 7:45 PM | 7:50 PM |
| 8:10 PM | 8:25 PM | 8:30 PM |
| 8:45 PM | 9:00 PM | 9:00 PM |
| 9:20 PM | 9:35 PM | 9:40 PM |
| 10:00 PM | 10:15 PM | 10:25 PM |
*Note: Last departure time on Friday is 1:55 PM from Lightsey Bridge and 2:10 PM from TCTC.
Hours of operation
Transit service runs approximately every 40 minutes from 7:30 a.m.-10:30 p.m. on Monday-Thursday and from 7:30 a.m.-3:40 p.m. on Friday.
Route stops and map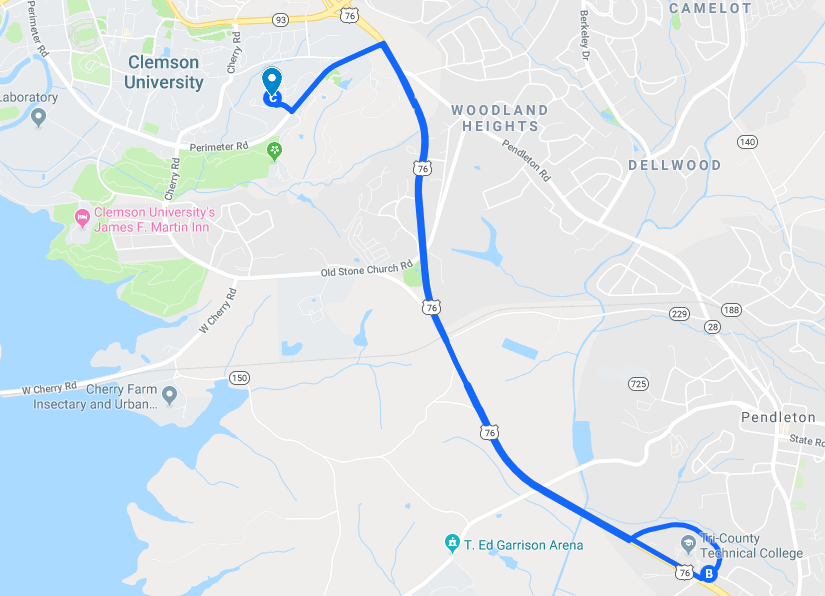 Complimentary Route
The Tiger Transit Bridge Route connects to the CATbus Pendleton Route at Tri-County Technical College, Miller Hall.
CATbus Pendleton Route (Monday-Friday, 6:45 a.m.-6:55 p.m.)
The CATbus Pendleton Route operates from the intersection of Newman Road at McMillan Road at the :45 of each hour and Walter T. Cox Boulevard at Douthit Hills at the :48 of each hour. It departs TCTC at Miller Hall at :15 to return to campus.