Transit
Transit at Clemson provides convenient and affordable transportation to the Clemson community. Explore our transit options to find bus routes, airport shuttles, car sharing opportunities, biking resources and more.
Choose Transit
Scan your CUID when riding eligible routes to earn Paw Points and other prizes this Fall!
Choose Transit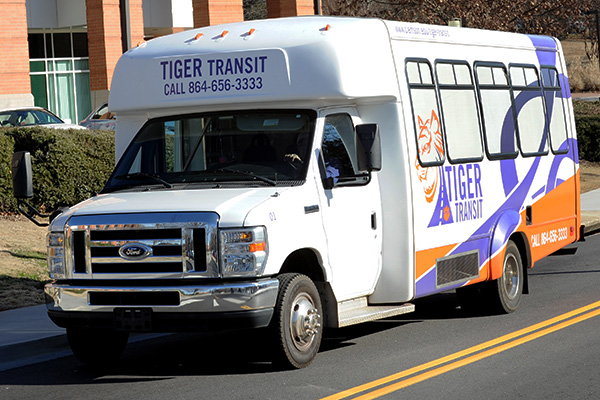 View Disruptions and Changes
If transit schedules are interrupted or changed, updates will be shared online.
Transit Rules
All buses are to be operated in a safe and courteous manner.
Buses shall adhere to the posted schedule to the best of their ability given prevailing traffic conditions.
No open food and drink containers on the bus. All food and drink must be sealed.
No alcohol or smoking is permitted on the bus at any time.
It is up to the driver's discretion to transport any passengers who appear to be under the influence of drugs or alcohol or who exhibit aggressive behavior or language.
Drivers and passengers are expected to be respectful of each other through their words and actions.
Tiger Transit operates under the policies and procedures of Clemson University.
Masks are no longer required to ride on any transit bus. It is an individual choice as to whether a mask is worn.
Lost and Found
If you lose an item during your ride, email transit@clemson.edu. Include what route you were on, the approximate time and location where you boarded the bus and where you were sitting on the bus.