This is Student Affairs
The Division of Student Affairs is a preeminent, student-centered community that creates supportive and inclusive environments to prepare Clemson students for lifelong learning. Our mission is to prepare and empower students to make a difference as global citizens.
Guiding Principles Strategic Plan
STUDENT STORIES
Learn, Grow and Find Your Community in Clemson Club Sports
Club sports offer more than just athletic training; they provide students with the chance to craft their own unique Clemson Experience and present new opportunities for students to find their community and a healthy outlet away from the classroom.
"My adviser has gone above and beyond from the day I got the position to not just help me with the basics of the position but also to talk through any creative ideas I've had, how to build relationships and bridges within the position, and even helped me grow as an individual."

Student Employee (FSL)
"From this internship I was able to apply classroom knowledge to real-life scenarios. I experienced various aspects of the marketing field including data and research, the strategical side and creative side. I can now speak to these experiences when interviewing for marketing internships for this summer. I really learned how to become more creative in my ideas and suggestions for marketing campaigns."

2020 Marketing Student Intern
Departmental Spotlights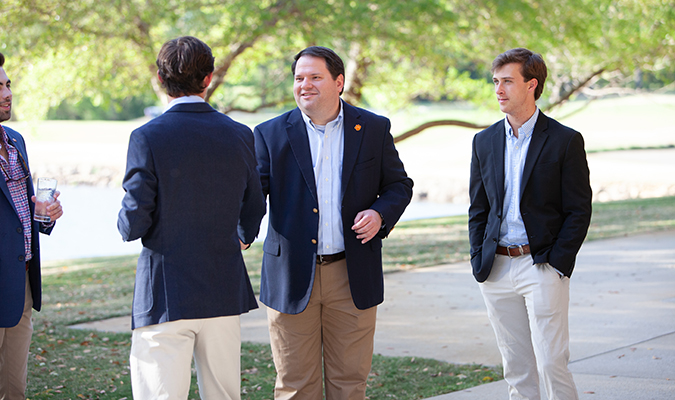 Stephanie Bagwell's professional career has not necessarily followed what some would call a traditional trajectory. In fact, a closer look at her résumé mirrors a theme that has played out repeatedly over the course of her personal life — putting the needs of others first. Bagwell ultimately rose to the position of nursing supervisor with Student Health Services before an opportunity too good to pass up presented itself — one that firmly prioritized her own career. "I wanted to be involved in my family's life, but also wanted to be a nurse," Bagwell said. "This was a wonderful opportunity."
Division of Student Affairs
Division of Student Affairs | 202 Sikes Hall, Clemson, SC 29634