Find Your Community on Campus
Connect with Tigers who share your passion! Clemson offers 500+ clubs and organizations to help students explore their interests and learn new skills. Explore Student Groups.
Living-Learning Communities
Clemson's 17 nationally recognized Living-Learning Communities are where student living spaces meet study halls and social networking opportunities. Through Living-Learning Communities, undergraduate students with similar academic interests, hobbies or backgrounds are assigned to the same residence hall. Sharing a home base at Clemson creates daily interaction with students facing similar challenges: This boosts grades and forges lifelong friendships. Be sure to explore the different Living-Learning Communities before applying for housing!
New Student Communities
Continuing Student Communities
Faculty-In-Residence
Multicultural Engagement
Clemson is committed to growing the intercultural competence of students by promoting diverse learning opportunities. Nearly 1,300 students study abroad each year. The annual international festival turns Bowman Field into a vibrant celebration of differing cultures, speaker series highlight individuals from varied backgrounds, and special interest groups meet throughout the year to provide fellowship for members of international communities in Clemson.
Multicultural Programs
Global Engagement
Study Abroad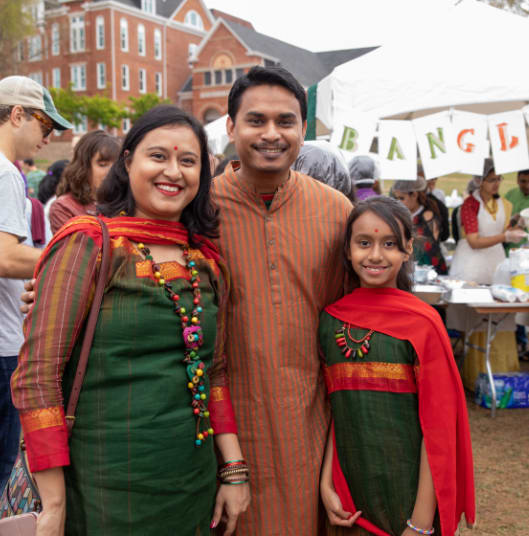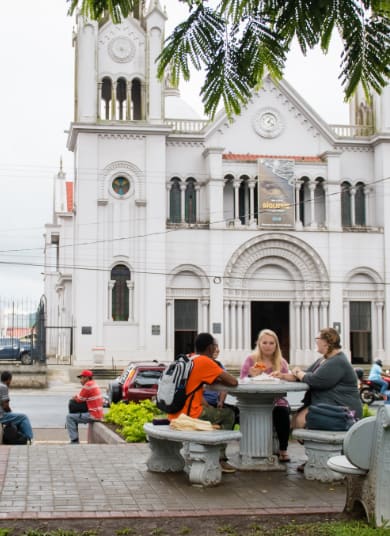 Veterans
Ten thousand Clemson men and women have served in the U.S. armed forces. We are humbled by their courage, grateful for their sacrifice and committed to serving them well as they earn their degree or begin a new career on campus.
Student Veterans
Employee Veterans
Student Government
Clemson University Student Government provides students the opportunity to make a meaningful impact on the University, gain experience in politics and represent their peers in conversations with the administration, faculty and staff.
Undergraduate Student Government
Graduate Student Government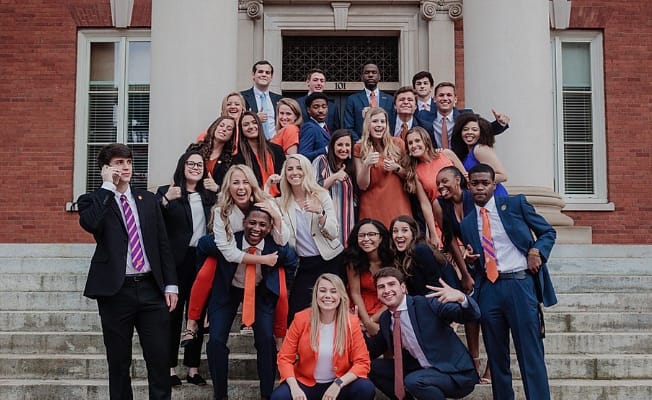 Video Transcript
0:00-0:03
Six Clemson students in varying shades of orange clothing smile and enjoy a meal together in Douthit Hills as the sun sets behind them.
0:03-0:04
A female student working on her laptop in Cooper Library greets her friend as he approaches.
0:05-0:07
Two female sorority members stick purple tissue paper into the base of a homecoming float to create the design of the Clemson ring crest.
0:08-0:09
Three members of Lambda Theta Phi, Clemson's Latino fraternity, gather at Starbucks to catch up on life and their group's upcoming activities.
0:10-0:11
Three female students sit together in the outdoor amphitheater on a sunny day, studying and chatting.
0:12-0:13
Clemson's female a capella group, Take Note, performs during a ceremony in Littlejohn Coliseum.
0:14-0:15
A drone shot shows a male Clemson student running on the dike beside Lake Hartwell with his dog. Memorial Stadium and the rest of campus can be seen above the tree line in the distance.
0:16-0:17
Two female students can be seen through the glass of a 3D printer in the Watt Innovation Center Makerspace. The machine is busy printing their product with orange material, and they are discussing the process together.
0:18-0:19
Two diverse female students walk together on a tree-lined path beside Godfrey Hall, having a discussion.
0:20-0:21
Clemson LIFE students wearing orange and purple shirts play basketball together in Littlejohn Coliseum. One of the students plays in a wheelchair.
0:22-0:23
Three male Clemson students smile and hold up their index finger at a sunny tailgate, communicating that Clemson is No. 1.
0:24-0:25
Clemson Air Force and Army ROTC cadets march in the First Friday parade, leading a procession of spirited cheerleaders. A variety of Clemson fans in orange and purple line the street to cheer them on.
0:26-0:28
An African American cheerleader smiles and completes a routine on the field in Death Valley. It's a sunny day, and the Tiger Band plays behind her.
0:29-0:30
In straight lines, members of the Tiger Band run onto the field in Death Valley to begin their pre-game ritual. The stands are full of orange-clad fans.
0:31-0:33
The Clemson Tiger stands at the base of the student section and raises his arms during a cheer. Clemson students and fans clad in orange enthusiastically fill the space behind him.
0:33-0:35
The image of the Tiger mascot blurs, and a white Clemson Tiger Paw comes into focus in the middle of the screen. The video concludes.