There has never been a better time to establish a new College of Veterinary Medicine in South Carolina. With the unprecedented growth of the human-animal bond and the changing face of animal agriculture, efforts to spearhead the new college's mission and vision are critically important as we aim to achieve even greater heights of excellence for the University. Recent studies prove that ample qualified candidates are applying to veterinary colleges, yet there are not enough seats across the country to accommodate students' desire to become veterinarians. The Clemson College of Veterinary Medicine will create new opportunities to improve South Carolina's economy, retain top talent and protect animal and human health while serving our communities. We are excited you are here to learn more.
This is an exciting time to be a part of Clemson. I'm honored to have the opportunity to play a part in positively impacting the people and the animals within the state.

Dr. Steven Marks

Dean

College of Veterinary Medicine
About the College of Veterinary Medicine
Clemson University's College of Veterinary Medicine will be the first in South Carolina. Upon accreditation, the College of Veterinary Medicine will leverage the University's existing animal health programs and infrastructure to create a veterinary medicine workforce to fill a statewide shortage of veterinarians.
Timeline and Background
January 2023 – A feasibility study released to support the development of the new college found:
33% of South Carolina counties have fewer than five veterinarians.
48% of the state's counties have fewer than 10 veterinarians.
Nearly 200 South Carolina students were actively enrolled at 13 veterinary colleges outside the state (2022).
March 2023 – A search began for the founding dean of College of Veterinary Medicine.
June 2023 – The Board of Trustees officially approved the development of the new College of Veterinary Medicine. The University's strategy positions Clemson as a national leader in veterinary education and research while supporting the University's land grant mission.
The approval followed the completion of the FY24 state budget that included landmark funding to develop the new college and significant support from the state of South Carolina.
July 2023 – Clemson University named Dr. Steven Marks founding dean of the College of Veterinary Medicine.
Leadership
Steven L. Marks, BVSc, MS, MRCVS, DACVIM
Founding Dean of the College of Veterinary Medicine
A Diplomate of the American College of Veterinary Internal Medicine, Dr. Steven Marks came to Clemson in 2023 after positions at the North Carolina State University (2005-2023), University of Illinois (2001-2005), Louisiana State University (1996-2001), Colorado State University (1995-1996), Cardio Pet, Inc. (1994-1995), and Washington State University (1990-1994). He also served as president of the Small Animal Internal Medicine Specialty in the American College of Veterinary Internal Medicine from 2009 to 2012.
Dr. Marks' research interests involve emergency and critical care, general internal medicine, cardiopulmonary medicine, and pain management. As a teacher, Dr. Marks is the recipient of numerous awards, including the Norden Distinguished Teacher Award at Louisiana State University (1999), the Pfizer Distinguished Teacher Award at NC State (2009), the Zoetis Distinguished Teacher Award at NC State (2013) and most recently, the 2014 NC State Outstanding Teacher Award.
Dr. Marks received his BVSc degree from the University of Liverpool Faculty of Veterinary Science in 1989. He had a rotating internship in small animal medicine and surgery at the Tuskegee University School of Veterinary Medicine. He completed his residency in small animal internal medicine at Washington State University, where he also earned a master's degree in veterinary medicine.
Darbi L. Roberts, Ed.D.
Director of Operations
As director of operations for the College of Veterinary Medicine at Clemson University, Roberts oversees the development and implementation of strategic planning and initiatives for the college and the dean, including academic programs, curriculum design, faculty and staff recruitment, student recruitment and retention and student outcomes.
Roberts has more than 15 years of experience in student affairs, academic administration and international education at various institutions, including Carnegie Mellon University and Columbia University. With master's and doctoral degrees from Teachers College—Columbia University in Comparative and International Education, her expertise is in navigating the impact of policy, practice and programs on institutions and students and bridging the intersection of academic and student affairs.
Advisory Leadership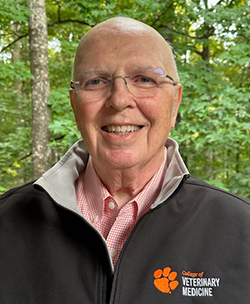 Tim Boosinger, DVM
Dr. Boosinger served as provost and vice president for academic affairs at Auburn University from 2011 to 2018. He was appointed to the faculty of the College of Veterinary Medicine at Auburn University in 1983 and served as associate dean for academic affairs of the college from 1993 to 1995 and dean from 1995 to 2011.
Most recently, he served Clemson University as interim dean of the College of Agriculture, Forestry and Life Sciences in 2018 and later as interim dean of the College of Architecture, Arts and Humanities from 2019 to 2020. He has served as Special Assistant to the provost since 2020. Boosinger earned his Doctor of Veterinary Medicine degree in 1976 and his Ph.D. in 1983, both from Purdue University.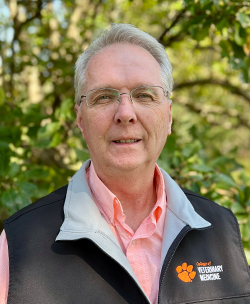 Boyd Parr, DVM
Dr. Boyd Parr is currently serving as a Special Assistant to the Provost at Clemson and Co-Chair of the Clemson College of Veterinary Medicine Steering Committee and resides in Newberry.
Boyd grew up on a registered Jersey dairy farm in Newberry County. He received a B.S. from Clemson University in Pre-Professional Studies with high honors. He earned his D.V.M. from the University of Georgia in 1978.
Upon graduation from UGA, Dr. Parr began a private veterinary practice based in Newberry that he continued for 26 years engaging in bovine production medicine serving clients in SC, GA, and NC with a focus on dairy and cow-calf operations. He joined Clemson Livestock Poultry Health in 2004 and served South Carolina's State Veterinarian and Director of Clemson University Livestock Poultry Health from 2009 until his retirement on 7/1/21.  Parr is also currently serving as Vice President of the SC Association of Veterinarians, Chair of the AVMA Council on Public Health, and is an Adjunct Professor in the Animal and Veterinary Sciences Department at Clemson.