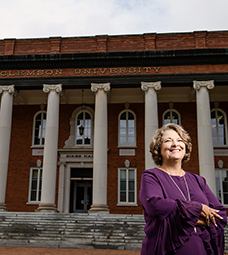 On behalf of the Board of Trustees, it is my pleasure to welcome you to Clemson University. Clemson has been a special part of my life, and it is so gratifying now to be working with the Clemson family to help ensure all our tomorrows are as successful as our yesterdays.
Nationally recognized for both academic quality and value, Clemson is a land-grant, science- and engineering-oriented research university that maintains a strong commitment to teaching and student success. It is characterized by high academic standards, a culture of collaboration, school spirit, patriotism, and a competitive drive to excel.
The university was founded in 1889 through a bequest from Thomas Green Clemson, a Philadelphia-born, European-educated engineer, musician and artist who married John C. Calhoun's daughter, Anna, and settled at her family estate in South Carolina. Mr. Clemson believed that the way to rebuild his adopted state's war-ravaged economy was through scientific education, so he left his home and fortune to the state of South Carolina to create the institution that bears his name.
His will also outlined a unique governance system that includes seven Trustees who select their successors and six Trustees who are appointed by the State Legislature, a system that provides both long-term stability and public accountability. The Board's role is to govern through establishment of policies that ensure academic quality and freedom, protect the university's financial security, and ensure efficient and effective administration through the Board's selected president and his or her executive officers.
Sincerely,
Kim A. Wilkerson, Chair
More information about the Board, its policies, and its meetings can be found on this site. Thank you for visiting. If you have any questions or concerns, please contact us.