The Clemson Medallion is the highest honor conferred by Clemson University. This honor recognizes an individual who has demonstrated a long and sustained commitment and significant service to Clemson University.
The award is named in honor of the benefactor of Clemson University, Thomas Green Clemson, an advocate for scientific education and the advancement of agriculture.
Nominations are solicited in odd years, and recognition events are hosted in even years.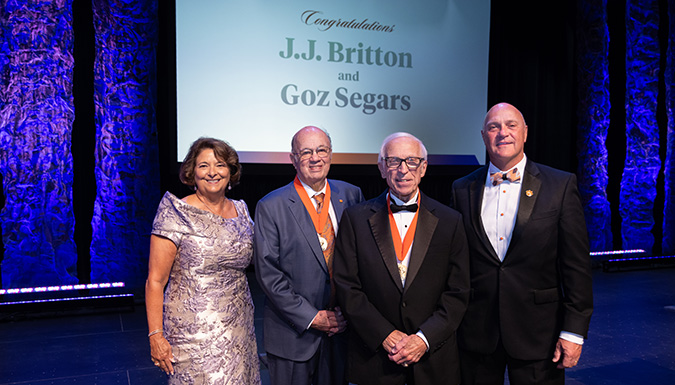 Eligibility
The Clemson Medallion shall be bestowed only to living individuals. This award is reserved principally for nominees who graduated from Clemson University and others who have cultivated a meaningful relationship with Clemson University.
No later than November 30 of years ending with odd numbers, the Selection Committee will recommend to the Board Chair no more than two candidates they believe meet the high standards to receive the Clemson Medallion. As soon as possible thereafter, the Board Chair will review those candidates with the President of Clemson University and affirm the recommended candidate(s). Given the uniquely high privilege of the Clemson Medallion, it is understood that there may be years in which no recipient is selected. Further, the Board Chair is under no obligation to select any candidate as a recipient.
Previous Award Recipients
2022
Robert E. (Bobby) McCormick '72
Charles K. Watt '59
2020
Beverly (Ben) N. Skardon '38
Allen P. Wood '75
2016
James F. Barker '70
James E. Bostic, Jr. '69
2014
E. Smyth Mckissick III '79
Jerome (Jerry) V. Reel '00
2013
Thomas B. McTeer, Jr. '60
Joseph D. Swann '63
2009
George Bennett '55
Leon J. (Bill) Hendrix '63
2000
Lawrence M. Gressette, Jr. '54
1997
Frank S. Barnes, Jr. '42
Earle E. Morris '49
1994
Warren H. Owen '47
Taze L. Senn '39
1992
George J. Bishop III '52
Wilson C. Wearn '41
1991
Buck Mickel
R. Roy Pearce '41
Max Lennon
1990
William G. DesChamps, Jr. '38
Milton W. Holcombe '53
1989
Sherwood E. Liles, Jr. '27
Philip H. Prince '49
1988
George H. Aull '19
Louis P. Batson, Jr. '48
1987
Robert S. Campbell, Jr. '37
Paul W. McAlister '41
1986
C. Calhoun Lemon, Sr.
Charles R. Wood '43
1985
Robert R. Coker
James C. Self
1984
W. Wright Bryan '26
Walter T. Cox '39
1983
J. Wilson Newman '31
Robert C. Edwards '33
1982
Wofford B. Camp '16
Frank J. Howard
1981
Thomas M. Hunter '09
Frank J. Jervey '14
Senator J. Strom Thurmond '23