Metered Parking
Parking and Transportation Services has set up parking meters around campus capable of managing multiple spaces. The meters, in line with The President's Sustainability Action Plan, are solar powered and will allow for a reduction in manned vehicle patrols, therefore reducing Parking and Transportation Services' overall carbon footprint. The pay stations not only enhance the campus landscape through a reduction in the number of single-space meters but also provide visitors and Clemson University permit holders (CUPH) with a smart, sustainable and cost-efficient parking solution.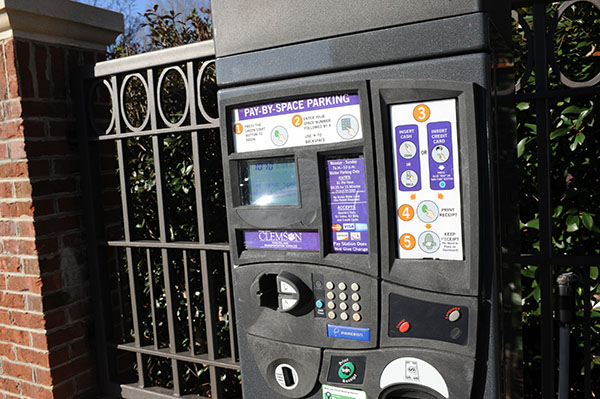 Metered parking areas have signs identifying the metered spaces and the location of the multispace meter pay station. Look for the white "P" on the side of the pay station and the black, bronze and white "Pay Meter Here" signs. These regulatory signs specify the hours of operation, meter limits and directions on how to pay at the multispace pay station.
Visitor Metered Parking Map (PDF)
CU Permit Holder Metered Parking Map (PDF)
Meter Payment Options
Quarters
One-Dollar Coins
One-Dollar Bills
Debit/Credit Cards: MasterCard and Visa ($1 minimum)
How to Operate a Meter
Press the GREEN button to begin.
Enter your space number and press #. Press * to backspace.
Insert cash (quarters, dollar coins, $1 bills) OR credit card. For credit card, press the "ADD TIME" button to add time in 15-minute increments.
Press the GREEN button to print receipt.
Retain receipt as proof of purchase.
All metered parking spaces are numbered, i.e., "Metered 12," and cost $2.25 per hour to park. Please follow all permit rules regarding time allowed to park in a metered space. You must pay for all the time needed in your first transaction. Please note that refunds are not given for unused time.
Parking Hours
Visitors and Clemson University permit holders may pay to park in the designated multispace metered areas under the guidelines on the signs posted at the meter stations. Hours of operation are 7 a.m.–10 p.m., seven days per week. Meter limits vary by location and user type. Visitors – No Permit Required "Three-Hour Visitor Meter Limit;" CUPH – Park for the "One-Hour CU Permit Limit" or as Otherwise Posted.