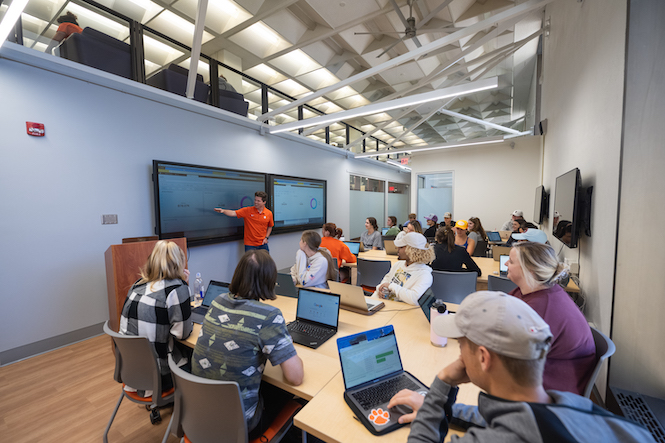 The SMLC is located on the 5th floor of Cooper Library next to Starbucks. The space features a large video wall, two 84-inch touchscreen monitors, and collaborative workstations
Department of Communication
Communication Center
Opening in early 2012, The Social Media Listening Center at Clemson University is an interdisciplinary, cutting-edge laboratory that seeks to monitor, measure, and engage in social media conversations from across the web. Utilizing some of the most powerful social analytics software available, the SMLC provides learning, teaching, researching, and partnership opportunities to students, faculty, and external clients.
The SMLC relocated to the 5th floor of Cooper library in August 2022. Our new location on campus is equipped with collaborative work stations, 84-inch touchscreen monitors, video conferencing equipment, and a large video wall powered by Sprinklr Display technology.
In June 2021, the SMLC began a partnership with Sprinklr, one of the world's premier social analytics and listening platforms. Sprinklr's broad-based listening includes social sources as well as broader digital sources (blogs, news, forums, reviews) that may be queried against. Sources include Twitter (full firehose), Reddit (full firehose), YouTube, Forums, Instagram, Tumblr, Facebook, Disqus, RSS Feeds, News, Quora, Articles, WordPress, Reviews, Blogs/Websites, and Flickr. In all, Sprinklr's robust search feature allows the SMLC to listen across 350+ million sources of online data.
Beyond Sprinklr, the SMLC also houses an array of listening and analytics tools that bolster its capacity to serve as one of the premier social media laboratories in the country. The ability to harvest data, while critically important, only scratches the surface of social media research and application. To that end, the SMLC provides students and researchers with tools and techniques to analyze and make sense out of datasets. The SMLC can support various methodological approaches from content analysis, sentiment analysis, network analysis, and more.