Faculty Associates Program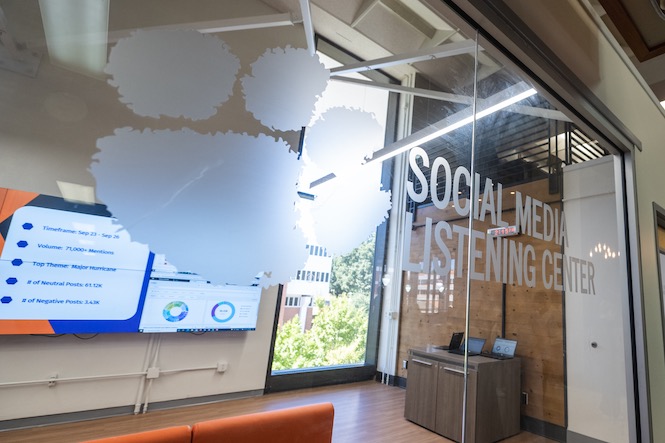 Data Collection Inquiries
If you are a Clemson University faculty member, staff member, undergraduate or graduate student interested in conducting research using social media data through the SMLC, please fill out the Qualtrics form linked here.
If you are NOT affiliated with Clemson University, please fill out the general contact form located under the About Us section.
---
SMLC Scholarship
Please check back frequently, as there are a number of projects currently under review at a wide range of peer-reviewed journals using data collected and/or analyzed through the SMLC.
Boatwright, B.C., & Pyle, A. (2023). "Don't Mess with Ukrainian Farmers": An examination of Ukraine and Kyiv's official Twitter accounts as crisis communication, public diplomacy, and nation building during Russian invasion. Public Relations Review https://doi.org/10.1016/j.pubrev.2023.102338
Stokowski, S., Smith, A.B., Fridley, A., Carr, C., & Paule-Koba, A.L., (2023). "The Most Important Shot You Will Ever Take": The Burgeoning Role of Social Media Activism in Challenging Embedded NCAA Patriarch. International Journal of Sport Communication. https://doi.org/10.1123/ijsc.2023-0159
Harrison, V. S., Bober, J., Buckley, C., & Vallos, V. (2023). "Save Our Spikes": Social Media Advocacy and Fan Reaction to the End of Minor League Baseball. Communication & Sport, https://doi.org/10.1177/21674795231151916
Cranmer, G. A., Boatwright, B., Mikkilineni, S., & Fontana, J. (2021). Everyone Hates the NCAA: The Role of Identity in the Evaluations of Amateurism Transgressions: A Case Study of the Chase Young's Loan Scandal. Communication & Sport. Doi: https://doi.org/10.1177/21674795211009162
Faculty Associates are engaged in active partnership with the SMLC on collaborative research, education, and/or service projects. Faculty Associates constitute a working committee formed to ensure the interdisciplinary nature, development, and continuity of the SMLC. Members are drawn from the various colleges across the university.
A faculty or staff member who wishes to participate actively in the SMLC may, upon the   approval of their application, be designated as a Faculty Associate of SMLC. Evidence of active participation includes any combination the following:
teaching a core course in the SMLC (social media analytics);
teaching or proposing creative inquiry project (CI) in, or cross listed with the Department of Communication;
engaging in significant research and publishing in social media analytics;
directing program-relevant independent studies in the applicant's fields of expertise;
participating in curriculum integration/interdisciplinary efforts related to social media data collection, analytics, or ethics
serving as a resource for other faculty and students interested in social media related research in the applicant's areas of expertise;
presenting work related to social media analytics in colloquia;
participating regularly in program-relevant discussion groups or programs
Faculty Associates are granted full access to the range of data collection and analytics platforms provided by the SMLC, and given priority regarding data volume requests.
Throughout the academic year, the director of SMLC shall solicit from the current members of the faculty associates as well as from others across the university the names of faculty to be invited to apply for designation as a faculty associate. People may also self-nominate by emailing boatwr5@clemson.edu. Nominees shall be invited to present their credentials to the SMLC Governing Committee for its majority approval. Decisions will be made as applications are submitted throughout the year.
Ordinarily, faculty associates shall serve staggered 1- to 2-year terms. An associate who is completing their term may reapply for reappointment as an associate. Acceptance will be determined by the needs of the program.
College of Behavioral, Social and Health Sciences
College of Behavioral, Social and Health Sciences | 116 Edwards Hall