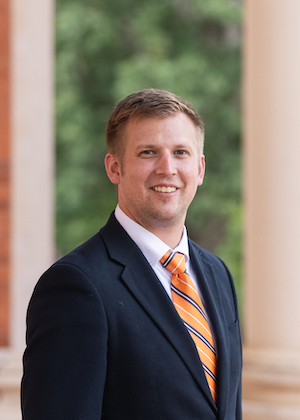 Dr. Brandon Boatwright, Director
Dr. Boatwright is a two-time graduate of Clemson University, and recently completed his doctoral studies at the University of Tennessee, Knoxville in Communication and Information with an emphasis in Advertising and Public Relations. His research focus examines the intersection of sports, social media, and opinion leadership. Specifically, the various strands of my research program are connected by three primary topics: (1) the role of opinion leadership in online environments and its effects on the broader network ecology of users and organizations, (2) how sociopolitical and sociocultural issues affect organizations, specifically within sports, and (3) issues associated with data privacy and ethics.
He has published original research in Public Relations Review, The Journal of Contingencies and Crisis Management, Computers in Human Behavior, The Journal of Public Interest Communication, and the Southern Communication Journal. He is an active member of the National Communication Association and the Southern States Communication Association. He is currently co-authoring a textbook on social media research methods designed to arm students with the latest social media research tools and data analysis strategies.
Dr. Boatwright oversees the various functions the SMLC performs which include working with undergraduate and graduate students on class assignments and projects, supporting data collection and research projects for faculty across the university, creating and sustaining external partnerships through the center, and pursuing grant opportunities.
Will Henderson, Associate Director
Will Henderson joined the Department of Communication as Associate Director of the Social Media Listening Center in 2019. He brings a range of industry experience. He previously served as a social media strategist and has experience as a social media consultant for several non-profit and marketplace companies. In these roles, he mentored and supervised teams consisting of graphic designers, web and content curators, video editors, and freelance photographers, in addition to deploying social media strategies and analytics.
Henderson earned his master's degree in media management, with a concentration in social media management, from Arkansas State University in 2019. His research on using online communities as complimentary therapy for individuals with self-damaging behaviors was presented at the Southern States Communication Association Conference in 2019. At Clemson, he teaches the undergraduate social media analytics course and provides leadership for the SMLC's many projects and client relationships. In this position, he trains and prepares students in his classes, assists faculty members with research projects, and engages with industry partners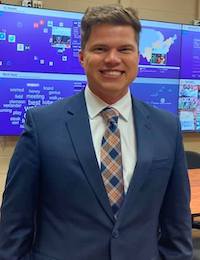 Lexi Merriman, Graduate Research Assistant
Lexi Merriman is a graduate of Clemson University with a degree in Communication and a minor in Nonprofit Leadership. She worked with several local nonprofit organizations in marketing and communications positions during her undergraduate career. Her research interests lie in sport communications and interpersonal communication within organizations, in particular how organizations use social media to communicate with fans, spectators, and constituents. She is currently a graduate student in Clemson's M.A. Communication program.
Taylor Erdman, Undergraduate Intern
Taylor is a Junior Marketing major and Sports Communication minor from Eastchester, NY. She is actively involved in Pi Beta Phi, Association for Women in Sports Media and Public Relations Student Society of America. Taylor is very excited to gain more insight into the analytical side of social media, with aspirations of channeling these skills towards a future career as a social media coordinator for a sports team.
Alexa Kritzer, Undergraduate Intern
Alexa is a Junior Marketing Major with an emphasis in Research and Insights at Clemson University from Boston, MA. Along with her work with the SMLC, Alexa has worked with previous employers to develop and initiate promotional strategies. Her interests include qualitative research, data analysis, social media management, and advertising. Alexa joined the SMLC to gain hands-on experience working with high-tech listening tools and social media analytics. She plans to graduate in May 2025 and hopes to pursue a career in digital marketing following undergrad.
Kerrigan White, Undergraduate Intern
Kerrigan is a senior marketing major from Richmond, VA. With her psychology minor, and experience with research, Kerrigan is excited to be a part of the SMLC team and learn more about research within the social media context. She hopes to pursue a career in market research after her time at Clemson.
Erin Spencer, Undergraduate Intern
Erin is a senior communication major from Lexington, KY. She plans to pursue a career in writing, media, and strategic communication in the future. Through her entire time at Clemson, she has continued to be involved with the SMLC. Outside of campus, Erin enjoys working out and spending time with friends and family.
Isabella Gualtiere, Undergraduate Intern
Isabella is a Senior psychology and marketing double major with a minor in Communications Studies. She is extremely interested in pursuing a career in social media marketing and is excited to gain knowledge and learn through experience at the Social Media Listening Center this fall!
Lexi Nomack, Undergraduate Intern
Lexi is a marketing major and brand communications minor from Norwalk, Connecticut. She has an academic interest in research, social media marketing, and brand marketing. In her free time, she enjoys working out, playing soccer, and traveling. In the future, she hopes to pursue a career in sports marketing.
College of Behavioral, Social and Health Sciences
College of Behavioral, Social and Health Sciences | 116 Edwards Hall