Complex Systems, Analytics and Visualization Institute (CSAVI)
About the Center
The Complex Systems, Analytics and Visualization Institute (CSAVI) is a nationally competitive scientific research institute that brings together partners from academia, industry, and federal and state transportation agencies with the cohesive mission of furthering research in complex systems, modeling, and visualization. A key emphasis is the study of systems enabled by connectivity between vehicle and infrastructure elements. CSAVI serves to perform cutting-edge interdisciplinary research to drive continuous innovation through knowledge sharing among partners leading to invention and commercialization of decision support technologies for connected systems.
Letter from the Directors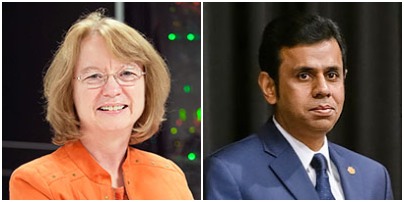 Welcome from Amy Apon and Ronnie Chowdhury, the co-Directors of the Complex Systems, Analytics, and Visualization Institute (CSAVI). CSAVI supports activities in areas of external funding and research to accomplish its missions to be a focal point for a community of research in fundamental computer science research and targeted application areas of intelligent transportation systems, computational materials science, and economic models of complex systems. CSAVI is pleased to work with several industry partners, including recent gifts from AWS, BMW, and LexisNexis. AWS has provided significant access to cloud resources as an in-kind gift.
CSAVI partners with Center for Connected Multimodal Mobility (C2M2), which has received approval for Year 3 funding, led by Ronnie Chowdhury. On October 24 and 25, 2018, C2M2 hosted the 6th Annual UTC Conference for the Southeastern Region at the Madren Conference Center in Clemson, South Carolina in conjunction with CSAVI. This conference featured Carla Bailo of the Center for Automotive Research as a keynote speaker. In addition, this conference featured a state Department of Transportation (DOT) Panel, research presentations by students and faculty, and a connected and automated vehicle (CAV) technology demonstration.
Amy Apon visited universities in Germany in summer, 2018, to strengthen our ties for research and for student exchange opportunities. She visited Hochschule Landshut, where she met with faculty, toured the facilities, and taught a course module in Cloud Computing Architecture to computer science undergraduates, and she visited the University of Applied Sciences in Regensburg where she met with faculty and visited the International Office. Many opportunities are coming available for student and research exchange to Germany.
Amy Apon and Ronnie Chowdhury successfully led the Major Research Instrumentation (MRI) effort to acquire significant computational resources for the institute and the campus, with a focus in this grant on computational materials science. The cluster was provisioned in spring, 2018, and has already been used by hundreds of members of the Clemson community. This instrumentation will be the primary resource for several research projects in computer science, including scalable machine learning and optimization and research on methods for utilization of emerging memory and GPU technologies. The cluster will also provide a much-needed platform for the collaborative development and execution of GPU-accelerated scientific applications. New developments in computing coupled with traditional computational methods will advance efforts in chemistry, physics, biology and materials science, transforming the way scientific knowledge is attained and implemented to drive new technologies. The instrument will also provide priority support for seventeen faculty research groups listed as faculty participants, and will also support a broad range of research projects and additional Clemson faculty and students.
On May 9, 2018, CSAVI along with C2M2 represented the Centers and presented some of our ongoing research initiatives and Center activities at the Clemson Research Symposium, held by the Office of Sponsored Programs at Clemson University at the Watt Family Innovation Center. This gathering presented an opportunity to discuss potential collaborations with other Clemson researchers and industry members.
We invite you to visit the sites for the centers and project supported by CSAVI to learn more about our research. All the best to you in 2019.
Amy Apon, Ph.D. and Mashrur (Ronnie) Chowdhury, Ph.D.