The Michelin Tire Inspection Inflation Station

Program History
In 2009 during National Tire Safety Week the Clemson University Institute for Global Road Safety and Security (CU-IGRSS) and Michelin North America Inc. dedicated a unique safety initiative celebrating their long-standing partnership. The Michelin Bib Gonfleur Tire Inspection Inflation Station is a reminder to the public that proper tire inflation is a key automotive safety component and a boost to fuel efficiency.
Program Purpose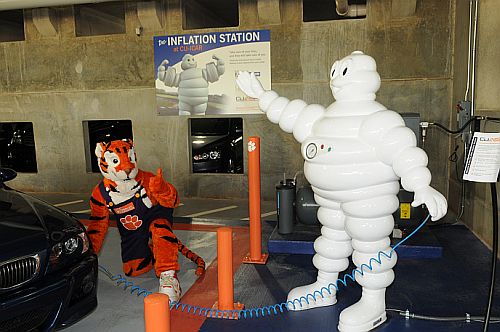 The Inflation Station is unique, one-of-a-kind, safety resource for the driving public. Located on the entrance level of the AutoPark at the Clemson University International Center for Automotive Research (CU-ICAR) at I-85 exit 48A East, the Inflation Station features the iconic "Michelin Man" as a highly visible opportunity for drivers to check and adjust tire pressure as they leave the parking area.
Of the many variables in road safety, tires are an extremely important safety feature of the automobile. Accurate tire inflation pressure is one of the most easily managed - and one of the most easily overlooked - aspects of road safety. Unless a tire is obviously flat, it is far too easy to assume all is well. The unique joint project is especially valuable for educating the public about tire safety and providing the means for evaluating and correcting problems on the spot.
Tire Safety Tips: The following tire care tips will help to maintain a safe drive experience (for additional information, see www.betiresmart.org)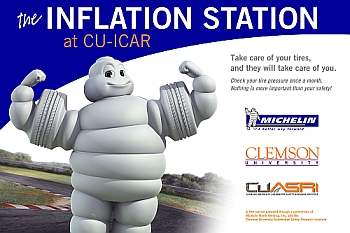 • Check tire pressure
• Rotate tires regularly
• Keep proper vehicle alignment
• Keep tires balanced
• Check tire tread depth and replace worn tires
CU-IGRSS and Michelin North America Inc. invite the motoring public to use this inflation station at their convenience.
---
For more information contact, Dr. Kim E. Alexander, Executive Director: Email: kalxndr@clemson.edu
Site maintained by, CECAS Webmaster: Email: mgarrel@clemson.edu