Virtual World to Enhance Driver Training

Program Description: Better. Cheaper. Faster.
CU-IGRSS has created a 3-D immersive virtual world environment as a training and research tool to improve driver knowledge, skills, and attitudes and reduce the risk of motor vehicle crashes. The purpose of this virtual laboratory is to investigate the use of immersive virtual worlds for driver research, education, training, and social interaction. This virtual environment includes a training course targeted to reduce dangerous driving behaviors such as driver distraction, inattention, drowsy driving, speeding, impaired driving, unsafe lane-keeping, and following too closely. This project incorporates training materials and includes assessment tools to provide trainees with measures of learning acquired through the virtual world environment. By harnessing the power of virtual worlds, a highly social and interactive learning environment has been created and can be tailored to the specific needs of any target population. 
Teen Driving Program Component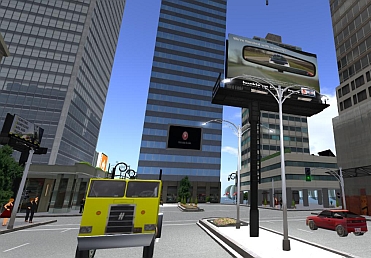 The overall objective of teen driver program component was to explore the use of virtual worlds as potential mediums for teen driver education. A study was conducted during the development of this program component to test its' effectiveness (Ball, 2011). The specific objectives of this study were: (1) to adapt and translate the Petty Safe Driving Program curriculum into a virtual world; (2) to create a virtual learning environment that can exist as an engaging, entertaining, and educational program addition; (3) to conduct a series of tests within the virtual world in order to determine if the learning environment is effective for teaching the desired safe driving knowledge; (4) to determine if knowledge acquisition is similar or dissimilar across delivery methods; (5) to use this gathered information to investigate the feasibility of teaching teens safe driving knowledge and practices in the virtual world as well as to help direct future developments on this project. 
Research Objective for Teen Component
A pilot study for this program was conducted with the overarching goal of exploring the viability of using virtual worlds for driver education purposes. This branch of testing included two distinct halves. The first half was an internal comparison between the pre-and post-test scores of participants in the virtual safe driving program. The second half was an external comparison between the real world Safe Driving Program scores and the 49 virtual safe driving program student scores against 52 real world student scores.

In the internal analysis the findings showed a 23% (or 11 student) increase in passing scores after only a short exposure to the virtual environment. It was also found that 63% (or 31 students) improved their score to some degree after a short exposure to the virtual environment. These results demonstrate that the virtual environment appeared to not only have an effect on the students' scores but that this effect appeared to be a positive one overall.
The external analysis revealed average post-test scores for the virtual world students was 8.82 while the average post-test score for the real world students was 10.81. This demonstrates that there was approximately a 2 point difference between the real world and the virtual world students in terms of safe driving knowledge. However, while it was found that the real world student performed better than the virtual students on average the virtual world students only received 14 minutes of unstructured exposure to the virtual environment while the real world students participated in a 6 hour intensive structured day long program. When time is taken into account the "learning per minute" ratio of the virtual world environment is actually higher than the in real world.
CMV Driving Program Component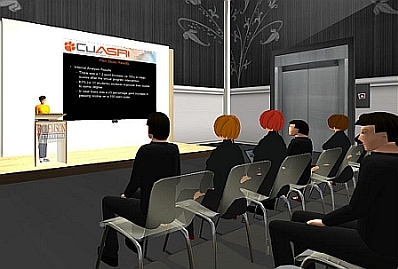 CU-IGRSS has created a prototype of computer-based simulated environment for training and online community interaction to aid in reducing the commercial motor vehicle (CMV) crashes and to develop and implement innovative CMV safety strategies. This virtual safe driving program was created within the public virtual world of Second Life in partnership with North Dakota State's University Upper Great Plains Transportation Institute (UGPTI). The goal behind the creation of this virtual safe driving environment is to explore new avenues for driver research, education, training, and social interaction using modern technologies in new and innovative ways. During the summer of 2012 IGRSS presented the virtual safe driving laboratory to the United States Department of Transportation Safety Council in Washington, DC comprised of the heads of the Departments from 10 agencies across all areas of transportation including: the Federal Motor Carrier Safety Administration, Federal Highway Administration, National Highway Traffic Safety Administration and the Research and Innovative Technology Administration. This project showcases the potential of virtual environments as an educational and collaborative outreach tool for the transportation community.
For more information or to become a virtual world project partner please contact Mr. Ball at caball@g.clemson.edu

---
For more information contact, Dr. Kim E. Alexander, Executive Director: Email: kalxndr@clemson.edu
Site maintained by, CECAS Webmaster: Email: mgarrel@clemson.edu