Rutland Faculty Fellow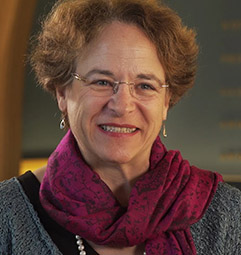 Joan Dubinsky joins the Rutland Institute for Ethics as a Faculty Fellow for the 2020-2021 academic year. Ms. Dubinsky was featured as the keynote speaker at Clemson's 2018 Annual Ethics Day.
Ms. Dubinsky offers over 30 years of professional experience in organizational ethics, compliance, and responsible business conduct. She is a leader in the global business ethics movement, having served as the chief ethicist for several leading international organizations and corporations, including the United Nations, the International Monetary Fund, BAE Systems, Inc., and the American Red Cross. Ms. Dubinsky helps organizations maintain an ethical organizational culture amidst the diversity and complexity of their operations. Ms. Dubinsky's portfolio includes ethical leadership, program effectiveness, provision of confidential advice, retaliation protection and prevention, whistle blowing, asset and interest disclosure systems, and ethical risk assessment.
In 2016, Ms. Dubinsky was appointed as the first Independent Ethics Advisor to the Ethics and Governance Committee of the Board of Directors for The Global Fund to Fight AIDS, Tuberculosis and Malaria, headquartered in Geneva, Switzerland.
Ms. Dubinsky is an adjunct lecturer at the Heller School for Social Policy and Management, Brandeis University; an adjunct lecturer at the School of Public Policy, University of Maryland; and a Center Fellow with the Center for Professional Responsibility in Business and Society, Gies School of Business, University of Illinois. Joan is a Kallman Executive Fellow with the Center for Business Ethics, Bentley University, Waltham, Massachusetts. She serves on the Board of Directors of Globethics.net Foundation, a Swiss charity.
With Alan Richter, PhD., Ms. Dubinsky co-authored Global Ethics and Integrity Benchmarks (2008, 2015, and 2020 editions). She was a contributing author to the ECOA's Ethics and Compliance Handbook, documenting best practices in the field of corporate compliance. Ms. Dubinsky led the Conference Board's Research Working Group on Working at the Intersection of Human Resources, Ethics & Compliance. Her work in ethics training was prominently featured in Ethics Matters: How to Implement Values-Driven Management, by Dawn-Marie Driscoll and W. Michael Hoffman (2000).  Her work on investigations was highlighted in Blackwell's Companion to Business Ethics, ed. by Robert Fredericks (1999). A Phi Beta Kappa, Ms. Dubinsky received her Juris Doctorate from the University of Texas at Austin and her undergraduate degree in Religious Philosophy from the Residential College, University of Michigan.
As a Faculty Fellow, Ms. Dubinsky will author articles each semester to be featured below: