Timberlands Legacy Program
Timberlands are one of our nation's most valuable and treasured resources. Often passed from generation to generation, ownership of the land provides us with roots as well as resources to support our students, faculty and programs for years to come. Clemson University has more than 75 years of expertise in forestry, forest management and natural resources, making us the ideal stewards for this program.
The Clemson University's Timberlands Legacy Program provides landowners with a unique opportunity to use their timberland to benefit the University while ensuring that their land is managed and protected.
A gift of timberland, whether outright or through your will, provides a unique opportunity to see your legacy continue while also providing benefit to the University through proceeds generated from the property.  These funds can be used for things such
Scholarships
Endowments
Student Engagement Programs
Overall university support
Faculty research
Outdoor Laboratories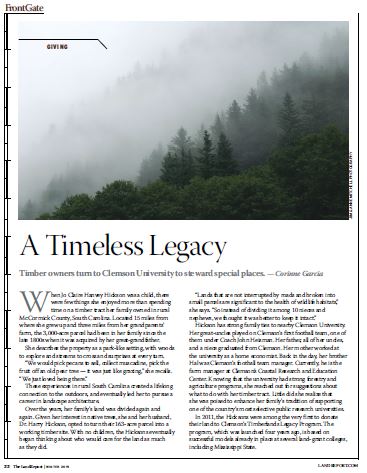 Land Report provides news and information to the American landowner focusing on profile stories of passionate landowners across the country, investment opportunities, ways to improve and conserve land, and legislation updates. The 2015 Winter issues includes a story on the Clemson TLP program, highlighting 2 of the program donors and the history behind the TLP program.