Label Approval Process
Five Step Process

Select the name of your product:

Product name should not mislead the public.
Shall be in accordance with regulatory standards.

Select your label category:

Single Ingredient (roasts, steaks, etc.) OR Multi-Ingredient (pork sausage, chili, etc.)

Prepare a sketch drawing of your label:

Label should include product name, establishment number, net weight statement, ingredient statement, company name & address, handling statement.

Submit label application (FSIS Form 7234-1) with a drawing of the label to IIC (Inspector In Charge)
Label approval (Sketch & Final)
For further questions on the meat & poultry labeling approval process, contact SCMPID at 803-726-7822.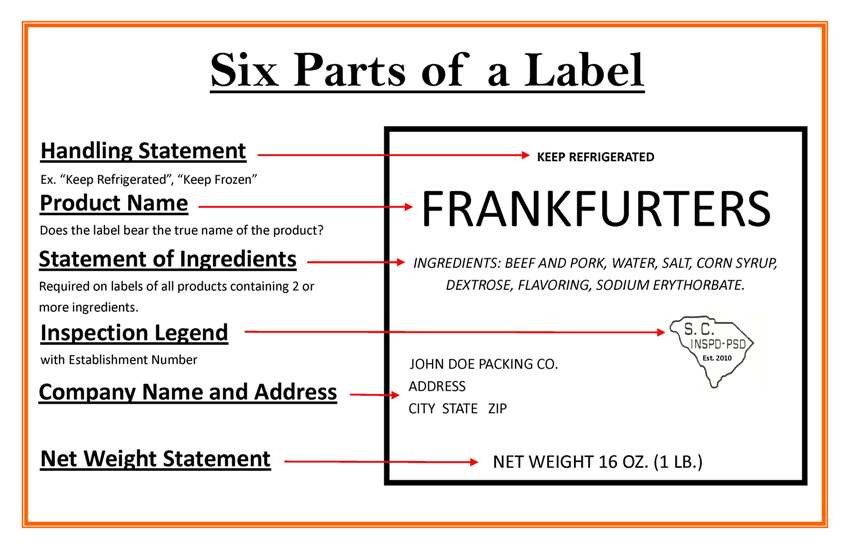 Six Parts of a Label: Product Name: Does the label bear the true name of the product? Inspection Legend with Establishment Number. Statement of Ingredients: Required on labels of all products containing 2 or more ingredients. Net Weight Statement. Company Name and Address. Handling Statement: Example "Keep Refrigerated", "Cook Thoroughly". 
Image Text: This is an image of an acceptable label in the State of South Carolina. "Keep Refrigerated" at the top, center. In bolden text, the product name to be produced is "FRANKFURTER". Listed under the product name are the product ingredients " Ingredients: BEEF AND PORK, WATER, SALT, CORN SYRUP, DEXTROSE, FLAVORING, SODIUM ERYTHORBATE." Followed by on the left side of the lable is the State of South Carolina Inspection Legend in the shape of the state itself, with the words "SC INSPD-PSD, Est. 2010". On the right side of the inspection legend is " John Doe Packing Co., "JOHN DOE PACKING CO, ADDRESS, CITY, STATE, ZIP". In the bottom center is "NET WEIGHT 16 OZ. (1 LB.). 
QUICK LINKS
Links available en Español:
Inspección de carne y aves de corral de Carolina del Sur  
Requisitos de aprobación previa para establecimientos oficiales de productos cárnicos y de aves de corral
Declaración de no discriminación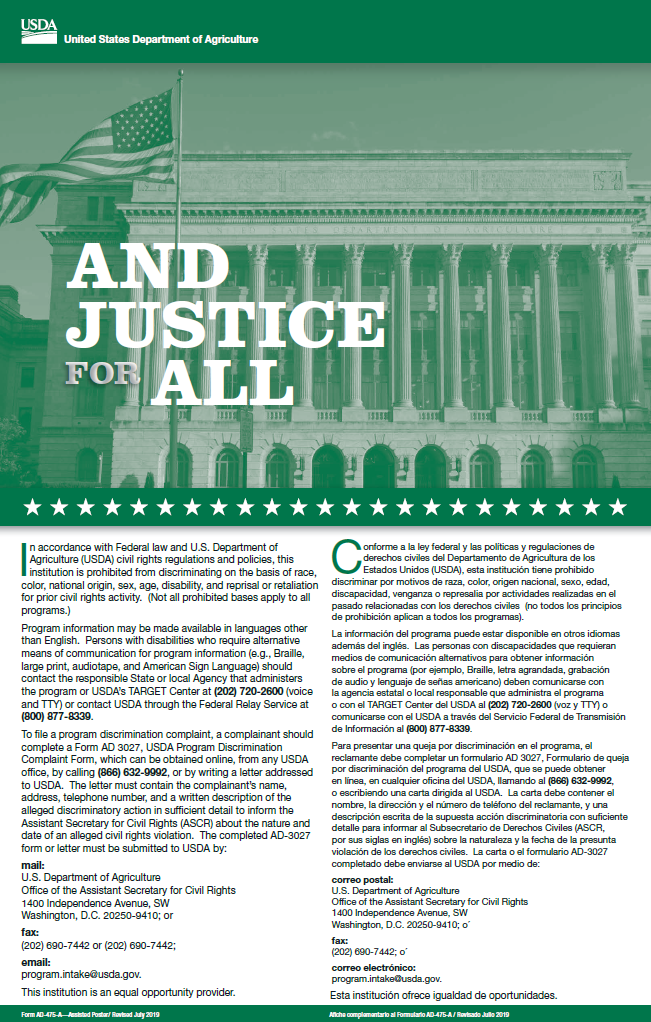 click poster to enlarge view