Calycanthus floridus: Carolina Allspice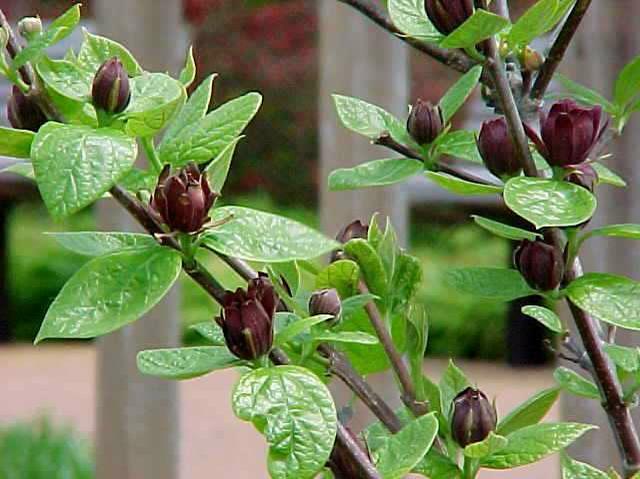 Latin name: Calyanthus floridus
Common name: Carolina Allspice
Flowers: Red-brown, showy blooms12
Fruit: Brown seed capsules, not showy but interesting12
Height & Width: 10' x 12'12
Type: Perennial12
Habit: Shrub12
Wetland indicator category**: FACU17
Texture: Medium12
Growth rate: Fast12
Light: Full sun to part shade12
Moisture: Medium12
Soil*: Organically rich loam12
Zones: 4-912
Origin: South Carolina and the southeastern United States16
Features: An easily maintained plant Carolina Allspice begins to flower in May with fragrant red-brown blooms. Dark green leaves turn yellow in the fall, while seed capsules grow and persist through the winter. This is a very fragrant plant that releases aroma through blooms and the bruising of tissues, such as leaves. Its scent is said to be a mix of pineapple, strawberry, and banana12.
Siting: Performs ideally in well drained, organically rich, loamy soils. It prefers full sun and in part shade it will typically grow taller reaching for the light.12
Care: Plant crown at soil level.18 At planting, water the roots and surrounding area slowly and deeply. Keep soil moist until plant is established, then apply enough water to thoroughly moisten the root zone when the soil is dry or during drought. Modify water recommendations to reflect site drainage and rainfall. Apply 3" of mulch over the planted area. Do not allow mulch to touch the plant stems.18
Pests: Plants are relatively pest resistant if cultural preferences are met.
Author: Alexander Smolka
Sources 1-18 found on Sources page