Echinacea purpurea 'PowWow Wild Berry'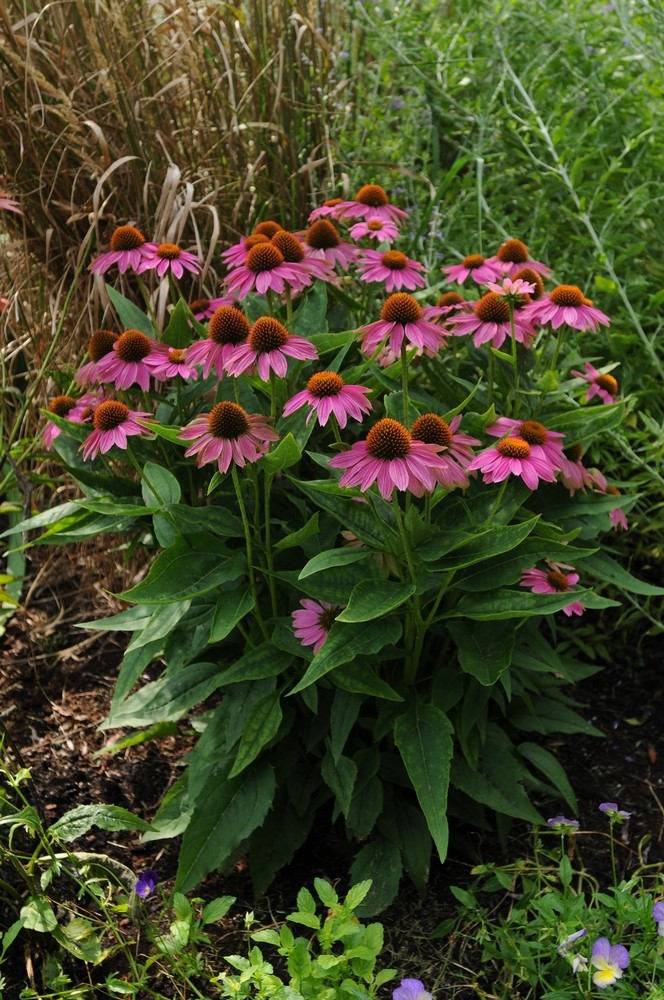 Latin name: Echinacea purpurea 'PowWow Wild Berry'
Common name: Purple Coneflower
Flowers: Large, deep rose-purple flowers in a floriferous bloom from late spring to late summer12
Fruit: Inconspicuous20
Height & Width: 2-3' x 1-1.5'12
Type: Herbaceous perennial12
Habit: Compact, upright20
Wetland indicator category: UPL17
Texture: Medium10
Growth rate: Medium12
Light: Full sun to part shade12
Moisture: Dry to medium19
Soil: Tolerates a wide variety of soil types and pH12
Zones: 3-819
Origin: Central to Eastern United States, including South Carolina16
Ecosystem benefits: Attracts butterflies and hummingbirds. Used as mild natural antibiotic thought to improve white blood cell count.10
Features: Large, showy, deep rose-purple flowers on wide, sturdy, well-branched stems12. Superior performance including a basal branching habit that results in more flowers per plant20. Attracts many hummingbirds and butterflies, and used medicinally as an extract or herbal tea.10
Siting: Echinacea purpurea 'PowWow Wild Berry' needs adequate room to properly branch out in well-drained, sandy or richer soils10. It will tolerate partial shade, but prefers full sun12.
Care: Plant crown at soil level18. At planting, water the roots and surrounding area slowly and deeply. Keep soil moist until plant is established, then apply enough water to thoroughly moisten the root zone when the soil is dry or during drought. Modify water recommendations to reflect site drainage and rainfall. Apply 3" of mulch over the planted area. Do not allow mulch to touch the plant stems18. Ensure soil is well drained. Divide clumps when they become overcrowded (about every 4 years). Plants rebloom well without deadheading, however prompt removal of spent flowers encourages continued bloom and improves general appearance.12
Pests: No serious insect or disease problems12. Plants are relatively pest resistant if cultural preferences are met.
This plant does not appear on the following invasive plant lists on (2/12/2016):
X USDA SC Invasive Plant Species Web site at http://www.invasivespeciesinfo.gov/plants/main.shtml
X SC Exotic Plant Pest Council Web site at http://www.se-eppc.org/southcarolina/
Sources:
Sources 1-18 found on Sources page
Image source: http://www.sunlightgardens.com/plants/1594.jpg
19. Perennial Resource. Echinacea purpurea 'PowWow Wild Berry'. Retrieved from http://www.perennialresource.com/encyclopedia/view/?plant=2110 
20. All-America Selections. 2010 AAS flower award winner. Retrieved from http://all-americaselections.org/winners/details.cfm?WinID=1