Eupatorium maculatum: Spotted Joe Pye Weed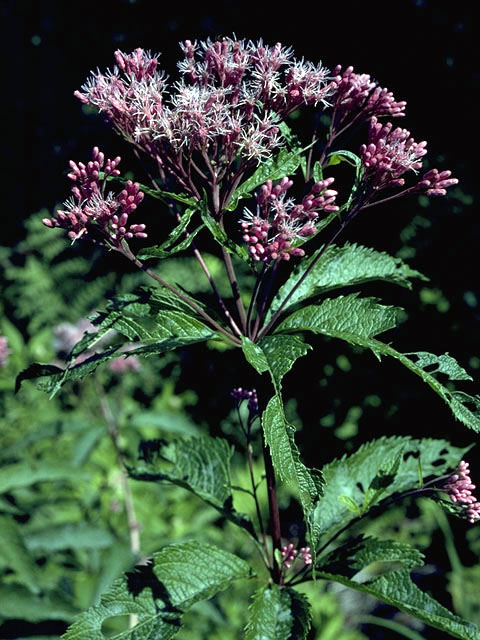 Latin name: Eupatorium maculatum
Common name: Spotted Joe-Pye Weed
Flowers: Flat-topped clusters with 9-15 flowers3, 13
Fruit: Inconspicuous10
Height & Width: 5-7' x 4'3
Type: Herbaceous perennial10
Habit: Upright10
Wetland indicator category**: FACW17
Texture: Medium18
Growth rate: Medium18
Light: Sun to part shade10
Moisture: Wet to moist10, 13
Soil*: Loamy and calcareous soils10, 13
Zones: 4 - 83
Origin: Eastern North America16
Features: Eupatorium maculatum is a tall herbaceous perennial that performs well in moist or wet landscapes10. The stems are usually spotted or solid purple and lined with whorls of narrow leaves13. Clusters of mauve flower heads attract a number of beneficial pollinators in the late summer to autumn months3, 10.
Siting: Spotted Joe-Pye Weed performs best in moist to wet soils with sun to part sun conditions3.
Care: Plant crown at soil level18. At planting, water the roots and surrounding area slowly and deeply. Keep soil moist until plant is established, then apply enough water to thoroughly moisten the root zone when the soil is dry or during drought. Modify water recommendations to reflect site drainage and rainfall. Apply 3" of mulch over the planted area. Do not allow mulch to touch the plant stems18.
Pests: Plants are relatively pest resistant if cultural preferences are met.
Author: Allison Kelly
Sources 1-18 found on Sources page