Helianthus angustifolius: Swamp sunflower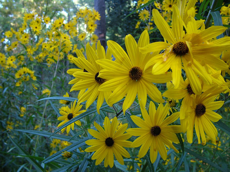 Latin name: Helianthus angustifolius
Common name: Swamp sunflower
Flowers: Prolific 2-3" flowers with narrow yellow petals surrounding a brown or purple dis3
Fruit: Inconspicuous16
Height & Width: 5-7' x 4' 3
Type: Perennial10
Habit: Upright15; Flowering herb16
Wetland indicator category**: FAC, FACW17
Texture: Medium16
Growth rate: Moderate16
Light: Full sun to part shade2
Moisture: Medium10
Soil*: pH preference 4-716; tolerates Sandy, Sandy Loam, Medium Loam, Clay Loam, Clay, Acid-based soils10
Zones: 5-93
Origin: Eastern North America16
Features: Flowers in late summer through October in the South when there are few other blooming plants in the landscape2, 19. Attracts butterflies, birds and is of special value to native bees10. 'First Light,' 'Gold Lace,' 'Low Down,' and 'Table Mountain' are some of the smaller cultivars available.3
Siting: Requires plenty of room and grows best in full sun3. If grown in partial shade, pinch plants once or twice in early summer to encourage branching3. It prefers moist soil, but will thrive in well-drained soils if watered during dry spells19.
Care: Plant crown at soil level18. At planting, water the roots and surrounding area slowly and deeply. Keep soil moist until plant is established, then apply enough water to thoroughly moisten the root zone when the soil is dry or during drought. Modify water recommendations to reflect site drainage and rainfall. Apply 3" of mulch over the planted area. Do not allow mulch to touch the plant stems18.
Pests: Plants are relatively pest resistant if cultural preferences are met.
This plant does not appear on the following invasive plant lists on (10/20/12):
X USDA SC Invasive Plant Species Web site at http://www.invasivespeciesinfo.gov/plants/main.shtml
X SC Exotic Plant Pest Council Web site at http://www.se-eppc.org/southcarolina/
Sources 1-18 found on Sources page