Muhlenbergia capillaris: White Muhly Grass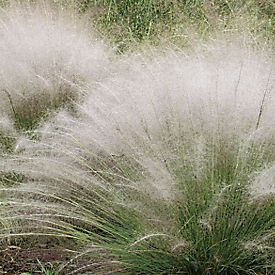 Latin name: Muhlenbergia capillaris
Common name: White Muhly Grass
Flowers: Showy12
Fruit: Not noticeable12
Height & Width: 3' x 3'12
Type: Perennial ornamental grass12
Habit: Upright grass12
Wetland indicator category**: FACU17
Texture: Fine textured basal foliage12
Growth rate: Medium12
Light: Sun to light shade12
Moisture: Very drought tolerant12
Soil: Well drained soil does well in hot dry sandy sites12
Zones: 6-912
Origin: Western-central United States12
Features: An airy inflorescence colored creamy white, which dries to a light grey in early November. These grasses have dark green glossy leaves and are excellent winter interest plants9. The cultivar White Cloud exhibits the same traits as the pink muhly grass except that it flowers white.
Siting: Belongs in well-drained soils because it is very drought tolerant, also does well in sandy soils. Should be planted in mass to create a statement in the landscape, does well in edging and borders as well as centerpieces.13
Care: Plant in suitable site with adequate soil organic matter so that the crown of the plant is at the soil surface18. Ensure the soil is adequately moist immediately after planting. Keep soil moist but not soggy until plant is established. Once plant is established water deeply but infrequently whenever the soil surface is dry or almost dry 2" below the soil surface18.
Pests: Plants are relatively pest resistant if cultural preferences are met9.
Author: Whitney Blue Fraser
Editor: Alexander Smolka
Sources 1-18 found on Sources page