Vaccinium corymbosum: Highbush Blueberry 'Jubilee'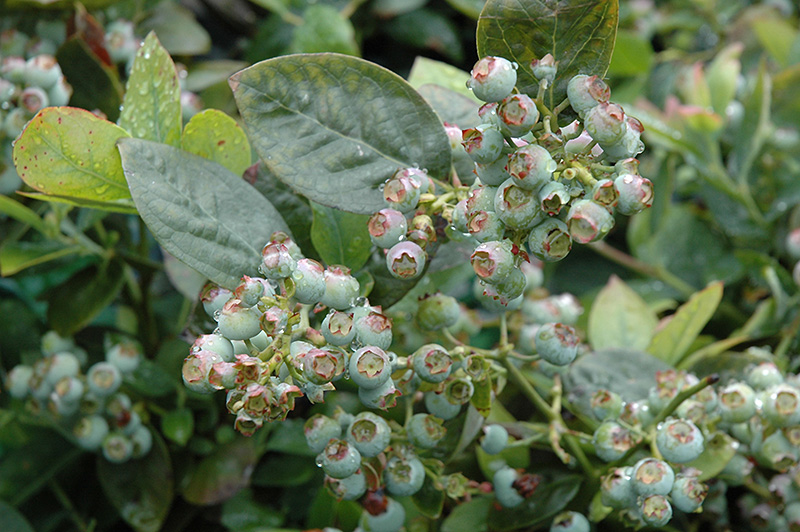 Latin name: Vaccinium corymbosum
Common name: Highbush Blueberry 'Jubilee'
Flowers: White but inconspicuous16
Fruit: Small blue berries16
Height & Width: 5' x 5'12
Type: Deciduous shrub12
Habit: Shrub12
Wetland indicator category**: FACW17
Texture: Medium16
Growth rate: Moderate16
Light: Full sun to part shade12
Moisture: Medium16
Soil*: Medium, 4.7 – 7.5 pH12
Zones: 5-912
Origin: Eastern United States16
Features: The Jubilee cultivar is a deciduous shrub that typically grows to about five feet high in moister areas will begin blooming early May with small white flowers. Edible blueberries will soon follow throughout the summer months that will attract students and wildlife alike. The leaves change to a red-purple during the fall and finally the stems turning red during the winter provides year round interest12. The 'Jubilee' cultivar is noted as being able to handle colder climates than most other blueberries16.
Siting: Highbush blueberry typically prefers medium to wet soils and is not drought tolerant. It is adapted to fine, medium, or coarse soils that have a pH range of 4.7 – 7.5. It should be planted in full sun although part shade is acceptable. This species likes to have room to bush out so it is not recommended that it be used as a hedging plant16.
Care: Plant crown at soil level18. At planting, water the roots and surrounding area slowly and deeply. Keep soil moist until plant is established, then apply enough water to thoroughly moisten the root zone when the soil is dry or during drought. Modify water recommendations to reflect site drainage and rainfall. Apply 3" of mulch over the planted area. Do not allow mulch to touch the plant stems18.
Pests: Plants are relatively pest resistant if cultural preferences are met. Root rot or stem blight are infrequent diseases that can occur12.
This plant does not appear on the following invasive plant lists on (10/17/12):
x USDA SC Invasive Plant Species Web site at http://www.invasivespeciesinfo.gov/plants/main.shtml 
x SC Exotic Plant Pest Council Web site at http://www.se-eppc.org/southcarolina/ 
Sources 1-18 found on Sources page