About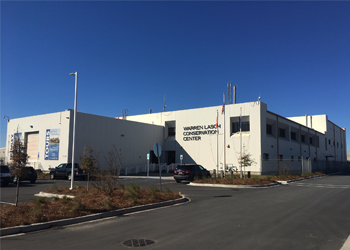 The mission of the Warren Lasch Conservation Center (WLCC) is to advance knowledge and best practice in the analysis, conservation and restoration of cultural heritage through innovative research programs, education and training. The WLCC values an integrated approach where conservation practice, archaeology and materials science work together to solve conservation challenges.
The WLCC is located at the Clemson University Restoration Institute Innovation Campus in North Charleston. The 45,917-square-foot materials analysis and characterization facility houses state-of-the-art equipment from electron-microscopes to 3-dimensional scanners. The tank room houses a 90,000-gallon tank with two 20-ton cranes on rails where research and conservation is conducted on the 1860s submarine H.L. Hunley.
Our experience is based on years of work dedicated to the analysis, preservation and stabilization of the H.L Hunley submarine (1864) and its diverse collection of artifacts. Experience gained by our team working on this complex conservation project is a valuable resource that has been shared with the worldwide scientific community. Results of the research are being further adapted and applied to other conservation projects, opening up new avenues of research and collaboration.
A diverse group of highly skilled professionals from all over the world make up the WLCC team. The Center also offers opportunities for research internships.