Turn your dreams into reality
Hunter Renfrow '18 had a choice to make about his future. A two-sport athlete in high school, he had scholarship offers from smaller regional schools to play college baseball and football. His other option was to join the Clemson Football team as a walk-on wide receiver.

Walking on at Clemson was definitely the riskier path. Renfrow would be at the bottom of the depth chart without a scholarship. Some might have opted for more certainty and guaranteed playing time.

But Renfrow had lifelong ties to Clemson; his grandfather and mother attended the University, and he grew up a Tiger fan. He had experienced many Clemson Football Saturdays — the sea of orange that engulfed campus, the thunderous spirit that filled Memorial Stadium, the cherished game day traditions. The chance to be surrounded by the nation's best players and coaches and earn a Clemson degree would be fulfilling a dream. Renfrow ultimately decided to bet on himself and become a Tiger.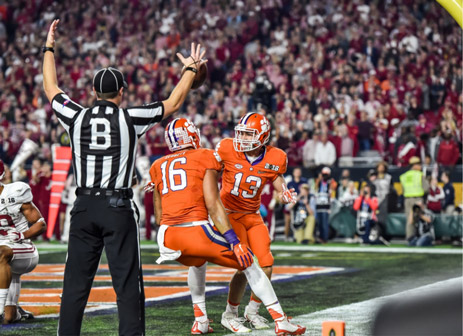 Surpass early expectations
After redshirting his first year and becoming a top contributor on the scout team, Renfrow earned a coveted athletic scholarship and began to see playing time. Off the field, he followed his developing interest in business and chose to major in economics.
While a career in professional football wasn't necessarily his end goal, he started to believe it was possible when he began winning matchups against opposing defenders heading to the NFL. For the next four seasons, Renfrow carved out a role as a dependable receiver who showed up in the right place at the right time to make plays. NFL scouts took notice, and by the end of Renfrow's collegiate career, he was projected to be a mid-to-late-round draft pick.