Education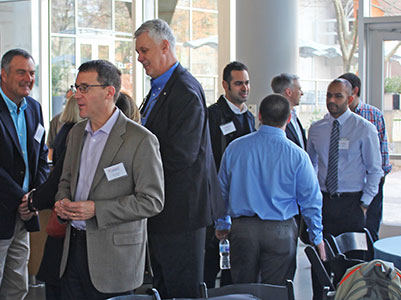 The Product Lifecycle Management Center provides an active education program for undergraduate/graduate students and industry engineers/technicians. On-campus, remote-campus, and off-campus education activities are offered through defined academic courses within the College of Engineering, Science, and Applied Sciences (CECAS). In addition, workshops and seminars offer focused training sessions, with the possibility of stackable certificates, and general assistance with PLM technology.
Educational program features …
Special sessions for undergraduate/graduate classes on PLM technology
Hosting of Creative Inquiry courses, student internships, etc.
Coordinate learning activities with Clemson University academic departments and student organizations
Focused workshops, seminars, symposia, and conferences
PLM courses taught at Industrial Consortium company sites
---
I. Short Courses on PLM
Fundamental Concepts | Digital Product Development | Graphical Concepts | Non-Graphical Concepts
PLM - 1.0 - Fundamental Concepts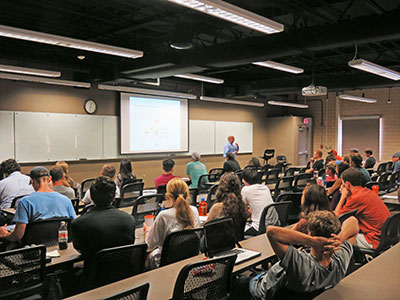 1.1 Introduction to the Produce Lifecycle
An introduction to Product Lifecycle Management with coverage of the fundamental concepts. Insight given on the development of PLM strategies and evolution to the current practices. Each phase of the process is described with examples of the actions, activities, and ideas that occur within an organization.
1.2 Digital Components of PLM
A general overview of computer-aided design (CAD), -engineering (CAE), and -manufacturing (CAM) as well as engineering data management (EDM) and digital manufacturing (DM) design capabilities. The topics of PLM data and accompanying product data management (PDM) tools plus enterprise resource planning (ERP) are introduced.
1.3 PLM Functional Areas
Opportunities to collaborate across the business enterprise are reviewed using PLM concepts within a standard configuration. Companies organize core skills (functional areas including product management, engineering, manufacturing, supply chain, support) which are reviewed and their interactions highlighted during production.
1.4 PLM in Practice
An example product is developed using PLM concepts to demonstrate the process. The PLM functional areas are discussed with the tasks of product conception, development, realization, field service, and end-of-life. Opportunity exists for student-identified virtual product applications to work through various tasks.
PLM-2.0 - Digital Product Development
2.1 Product Design Tools and Approaches
One challenge when adopting PLM tools is the reorganization of existing engineering processes to align with the digital tools and standardize the workflow. Through a case study, the primary steps and possible pitfalls when implementing a digital process are discussed.
2.2 Data Preservation and Security
The rigorous saving of digital data to preserve design data as well as the implementation of computer security and information protocols must be considered when transitioning to a digital workflow process. Best practices and accompanying challenges will be discussed with attention focused on working with information technology specialists.
2.3 Additive Manufacturing including 3D Printing
The growth in 3D printing and other additive manufacturing processes can support the rapid transition from virtual to physical prototype. The output of CAD/CAE computer programs (STL – Standard Triangulation/Tessellation Language) can be directly interfaced to additive printers to create layer-by-layer polymer, metal, composite parts. This course explores the transition from digital to actual components with attention focused on common processes.
2.4 Data Analytics and Mining
Big data and product lifecycle management – what is the connection? In this course, the raw data generated from digital simulations, product field operation, and other sources will be statistically analyzed to identify trends, patterns, and other important features.
PLM-3.0 - Graphical Concepts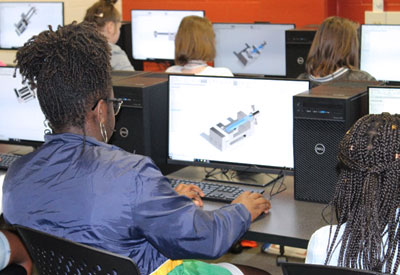 3.1 Computer-Aided Design Methods
Insight into design for excellence and lean product development by explaining strategies for computer-aided-design (CAD) models and assembly reuse. The course also covers additional assembly and modeling concepts such as modeling in space and associate modeling.
3.2 Computer-Aided Engineering (Design / Assembly)
An introduction into computer-aided-engineering (CAE) methods with focus on efficient creation and reuse of simulations. Explanation of common product development practices and how PLM technology allows for more developer control through concurrent design.
3.3 Two Dimensional Drawings and Geometric Dimensioning/Tolerancing
A graphics primer course that examines the concepts of form, fit, and function (FFF). The importance of FFF and how it is used to specify products with a large emphasis on geometric dimension and tolerancing (GD&T) are covered through theory and examples.
3.4 System Simulation and Optimization
A sequential demonstration of simulation and optimization graphical concepts and tools useful in research projects. The discussion focuses on multi-disciplinary systems including the integration of electro-mechanical components into complex assemblies.
PLM-4.0 - Non-Graphical Concepts
4.1 Project Management
A review of project management activities with an emphasis on project initiation using key administrative concepts. The workflow process includes product scope, requirements, work breakdown structure, cost, schedules, implementation strategy, and risk assessment.
4.2 Product Data Management
The basics of product data management (PDM) and repository development are covered in this course. The topics include product structure, configuration management, requirements modeling, SysML, analysis data management, interoperability, and data exchange.
4.3 Approval and Release Process
The approval and release workflow sequence will be discussed and highlighted for a hypothetical product. The discussion will focus on the design team's roles and responsibilities to ensure efficient handling of all aspects of the process.
4.4 Change Management Process
Students will learn the sequence of tasks to be completed to drive improvements in a product or work process. The workflow for engineering change will be discussed and examples offered on how changes in engineering information may propagate through the engineering database.
---
II. PLM Software Training and Help Sessions
Siemens NX Software – Basic Features with Application Learn how to use select features of the NX software package and apply this computer-aided-engineering tool to design a component on the PLM Center Computer Laboratory machines.
Dassault Systèmes Software – Introduction and Applications
PLM software package used for three-dimensional design. Learn some of the digital engineering tool's primary features and practice creating virtual parts.