PLM Resources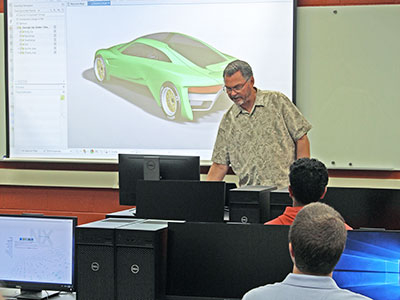 The PLM Center is Clemson University's champion for digital engineering process concepts and CAD/CAE/CAM software tools.
Siemens, a global technology company, presented Clemson University with Product Lifecycle Management Software that will allow students to simulate the development of a product from design concept to production. With over 140,000 companies utilizing this software, Clemson students will be skilled in emerging technologies in manufacturing.
Dassault Systèmes is an international software company that provides PLM tools, which include computer-based design and engineering modeling software, across many industries. Through a collaborative partnership, Dassault Systèmes has donated its 3DEXPERIENCE® simulation application to Clemson for use in the program.
PLM Software Features
Comprehensive software packages that enable design, modeling, analysis, costing, manufacture, supply chain, field data collection efforts, and cradle-grave product support
Applicable to engineering and business disciplines with viability in all academic fields including aerospace, automotive, construction, consumer products, energy, medical, …
Transformation of existing workforce to embrace PLM software tools for future

Multi-discipline thinking and massively scalable
Act of standardization in some respects
Digital strategy to optimize performance
PLM Software
Siemens

Software desktop applications hosted on Clemson servers
Education and research focus
FEMmap, FiberSim, NX, Solid Edge, TeamCenter, Technomatix
Simcenter Amesim and Testlab

Dassault Systèmes

3DS Experience platform hosted on the cloud with complete library
Education and research focus
Solid Works, CATIA, ENOVIA, SIMULIA, 3DVIA, DELMIA
---
Siemens Software
Many students come to Clemson University for the opportunity to learn through hands-on experiences, but for graduate students in automotive engineering, being hands-on is a little more challenging.
Read More on Simulation Software