Annual Ethics Day
Clemson University's Rutland Institute for Ethics invites you to attend its 5th Annual Ethics Day event on Wednesday, October 12th. The keynote address will be presented by Mr. Bill Carlson.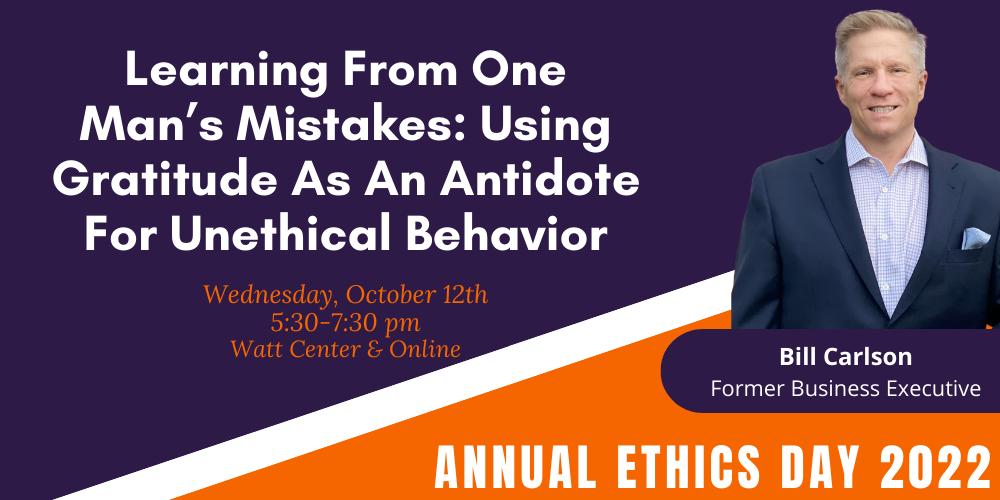 Bill Carlson is a former business executive who saw early success in the financial sector after graduating from college. He started his own financial advising firm after opening the Chicago office for a large private money management firm. Through his journey he found that hard work and taking care of clients paid off. In the 2010's, Bill had two kids in private high schools, he had a big house, he had a summer house in Wisconsin, and his wife was a stay-at-home mom. Bill was living the "American Dream".
The trouble was that recognition and accolades followed money and material possessions, and not the effort or the actions of one's life it took to achieve them. Bill stopped checking himself and thinking about the ripples of consequences his actions could cause. 
The pressures built. One small bad decision was too easily justified. The next snow balled.
The keynote address will begin at 5:30 pm and will be held in the Watt Center auditorium. We will also livestream Mr. Carlson's talk on this page.
Any attendee wishing to attend the event in person must register here.
For more information, contact Rachel Dial, dial2@clemson.edu, 864-656-2473.
Previous Annual Ethics Days:
2018- Joan Dubinsky
2019- Dr. Valerie Daniels-Carter
2020- Dr. Jerome Adams
2021- Dr. Kevin Kumashiro