Tigers for Inclusion, Diversity, and Ethics Conference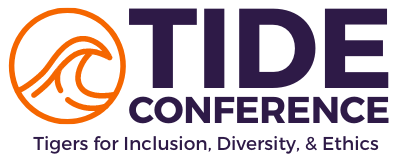 Theme: Using Ethics and Diversity to Enhance Critical Thinking
Dates: Monday, March 7 - Thursday, March 10, 2022
 
The societal unrest of 2020 is forcing us to address racial tensions, systemic oppression, the legacy of chattel slavery in the United States, various inequalities, and national policing. Cities across the nation are critically examining the practices and historical justifications once deemed acceptable but now questionable in today's climate of change.
The Rutland Institute's TIDE Conference seeks to inform participants of ethical dilemmas created by the intersection of diversity and inclusion as it relates to specific academic disciplines and to move participants to address those dilemmas. The conference will critically examine how ethics and diversity intersect, diverge, and create a more just society and a university culture that promotes equity and respect.
This year's theme, "Using Ethics and Diversity to Enhance Critical Thinking", was chosen by the faculty members of our Faculty Advocating for the Commitment to Ethics (FACE) Committee. Faculty chose the 2022 theme as a way to focus on critical thinking at a time when it is being challenged by the pandemic. Everyone, from faculty to students, is doing their best to survive and in many cases the sacrificial lamb in all of this is the development of critical thinking skills. The theme of the conference this year provides an opportunity to refocus on that which is essential in the pedagogical process of higher education. Each individual college speaker has been chosen by that college to address the intersection of ethics and diversity as it relates to that particular discipline.
Access recordings for all sessions here or using their title links below.
Conference Schedule
Keynote Address
Wednesday, March 9, 2022- 6:30 pm
Virtual
Two years of a pandemic has forced the academic world to look through the lens of pedagogy in a different way and has stretched academicians to think out outside of the methodological box. In many cases, being in survival mode for such an extended period of time tests the ability of professionals to concentrate on that which is necessary for future success – including ethical leadership, critical thinking, and appreciation for diversity. It is the intersectionality of these three topics that you will find the origin of our keynote address. Join us as we explore the importance of these three perspectives from subject-matter experts.
Panelists:
John Griffin

Senior Associate Provost
Clemson University



DeVon Wilson

Associate Dean for Diversity, Equity and Inclusion
University of Wisconsin-Madison

Executive Director, Center for Professional Responsibility in Business and Society




University of Illinois Urbana-Champaign
College Speakers:
Monday, March 7, 2022

5:00 pm

Sabrina Robinson
Vice President of Operations
The Regional Medical Center
R.A.C.E. (Rural Areas Conquering Equity): A Looking Glass Into the Social Determinants of Healthcare
Virtual
Presented by College of Behavioral, Social & Health Sciences
6:30 pm

Dr. Adrienne Dixson
Professor of Education Policy
University of Illinois
Thinking Critically and Ethically About Race and Diversity in Education
Hardin Hall Auditorium #100 & Virtual
Presented by College of Education

Tuesday, March 8, 2022

5:00 pm

Dr. Maya Hislop
Professor of English
Clemson University

Dr. Mark Del Mastro
Professor of Hispanic Studies
College of Charleston

Where Do We Go From Here? A Conversation About the Business of Diversity

Dr. Hislop- The Power of Failure in the Classroom: How I Learned to Stop Worrying and Trust My Students

Dr. Del Mastro- I'm in College Now: Learning and Appreciating Me and the Other

Hardin Hall Auditorium#100 & Virtual
Presented by College of Architecture, Arts & Humanities
6:30 pm

Dan Hawkins
Chief Executive Officer
Summit Leadership Partners
Diversity Leads to Better Business Outcomes
Virtual
Presented by Wilbur O. and Ann Powers College of Business

Wednesday, March 9, 2022

5:00 pm

Cynthia Barnett
Environmental Journalist
University of Florida
Listening to Lead Ethically: The Power of Listening in Environmental Change
Freeman Hall #138 & Virtual
Presented by College of Engineering, Computing & Applied Sciences

Thursday, March 10, 2022

5:00 pm

Dr. Drew Lanham
Distinguished Professor of Wildlife
Clemson University
Thinking of Land: Opportunities to Illuminate Found Cause through Conservation
Poole Auditorium #174 & Virtual (Reception in Poole lobby)
Presented by College of Agriculture, Forestry & Life Sciences
6:30 pm

Dr. Luz Cumba Garcia
Immunologist & Public Policy Advisor
Lewis-Burke, LLC
Ethics in Science Communication During the Misinformation Era: Lessons Learned
Watt Center & Virtual

Presented by College of Science

Sponsored by: