Advisory Board
Delia B. Allen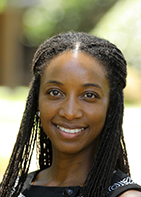 Delia B. Allen, Ph.D. has diverse experiences within corporate, consulting, pre-K-12, and higher education settings. Most recently, she is affiliated with the Richard W. Riley Institute at Furman University, where she serves as a Research Associate in the Center for Education Policy and Leadership. Dr. Allen is also currently a visiting professor in the Department of Educational & Organizational Leadership Development at Clemson University. Earlier in her career, she has been both an engineer and a public high school mathematics teacher.
Her current positions focus her time primarily on teaching, consulting and policy work. However, Dr. Allen has managed to maintain an active research agenda along with diverse publications. Her article, The Forgotten Brown Case: Briggs v. Elliott and Its Legacy in South Carolina, is published in a 2019 special issue of the Peabody Journal of Education that examines the promise, legacy, and reality of the Brown v. Board of Education decision. She also co-authored a chapter in an education law textbook. The chapter, History, Race, & Law, is published in 2019 in Contemporary Issues in Higher Education Law, 4th edition. This textbook is a practical guide covering higher education law as it affects students, faculty and non-faculty employees, and administrators.
In addition to Dr. Allen's publications, research and teaching experiences, she has delivered scholarly presentations in the areas of education law, finance, leadership, and policy. She currently serves as a member of the board of trustees for the National Education Finance Academy (2020-2023). She also serves as a member of the faculty editorial board for the Education Law & Policy Review.
Dr. Allen received her Ph.D. in Educational Administration and Policy from the University of Georgia, along with a Certificate in Education Law and Policy. She earned a M.S. from Northwestern University in Biomedical Engineering and a B.S. in Electrical Engineering from Clemson University.
---
Stephan C. Barton
Stephan is Senior Principal of Physicians Planning Group, LLC, in Atlanta. He specializes in Investment Analysis, Estate and Pension Design and is a NASD Registered Representative; Registered Investment Advisor; Registered Financial Consultant; and Certified Senior Advisor. Stephan served as a Chairman of the Advisory Board for the College of Architecture, Arts & Humanities at Clemson for 5 years and is now serving on the Board of Governors for the Mercer University School of Medicine. He graduated from Clemson in 1972 with a B.A. in English and went on to receive both his M.Div. and D.Min. degrees from Southeastern Baptist Theological Seminary in Wake Forest, North Carolina.
While attending Clemson, he was a Tiger Letterman in track and field, a member of the Blue Key National Honor Fraternity and the Block C Club. In, 2001 he was named a Distinguished Alumni Fellow. Stephan and his wife, Mary, have three children. He is a Deacon and Trustee of First Baptist Church, Athens.
---
Michael Brewington
Michael Brewington has more than 38 years of experience in the Food Services Industry with international knowledge of fresh produce acquisition and bulk purchasing for wholesale companies and purveyors to federal institutions. He has been actively involved in community service, beginning 40 years ago at Clemson University as a charter member of the Kappa Lambda Chapter of Kappa Alpha Psi Fraternity Inc.
Michael's commitment to uplifting young scholars has been seen as he advised at several local universities and colleges throughout greater New York City. He has been a key figure in organizing the Brooklyn-Long Island Alumni Chapter's annual Holiday Food Basket Drive that feeds a number of families in the area. Michael is one of the architects who established the Brooklyn-Long Island Alumni Chapter Scholarship Foundation, now serving as its Chairman.  Since its inception in 1995, the Foundation, with Michael's leadership, is responsible for distributing thousands of dollars in scholarships, as well as organizing many programs and events geared toward the youth in the community.
Now semi-retired, Michael is a native New Yorker who grew up in South Carolina. He holds a Bachelor of Science in Economics and Public Administration from Clemson University. While attending Clemson, Michael participated in a number of organizations including Blue Key Honor Society, Tiger Brotherhood and University Tour Guides. Amid all of his duties and responsibilities, his greatest joy is 'serving' as a dedicated and loving husband to his wife, Tammy, and as father to his two daughters and now a doting grandfather to 7-year-old Audrey.
---
Nicole Clifton
Nicole Clifton is a Vice President with the Financial Intelligence Unit at BB&T Bank in Charlotte, NC.  She graduated from Clemson University in 2001 with a B.A. in Modern Languages with a minor in Business Administration. After graduation, she returned to her hometown, Buffalo, NY, where she began and developed her banking career with HSBC Bank USA and M&T Bank. Nicole is a Certified Anti-Money Laundering Specialist (CAMS) and is a member of the association's (ACAMS) Carolinas Chapter. She recently joined and now serves on the board of the Rutland Institute for Ethics at Clemson.
Nicole maintains residences in Charlotte, NC, and in Amherst, NY, where she frequently visits to spend time with her family and friends. She is a long standing member of Faith Missionary Baptist Church and its community. She has a wide variety of interests including cooking, Latin dancing, playing Topgolf, and, of course, Tiger football!
---
Clete Cordero- Chair
Clete is the Vice President of Pricing for Southeastern Freight Lines in Lexington, SC, a billion dollar less-than-truckload motor carrier, where he has been since 2010. Previously he was the Vice President of Business Improvement at Benton Express in Atlanta, GA. He is a member of the National Motor Freight Traffic Association and the current Vice Chairman of the National Classification Committee.
Clete holds a Bachelor of Science degree from the University of Tennessee in Transportation Logistics and was the top graduating senior from the business school in 1996 and played rugby for the university. He and his wife, Carie, have three children, the oldest a current Clemson student. Clete enjoys being on the lake with his family, working with the youth at his church, and both coaching and playing sports. He currently serves as the Directional Elder for Radius Church based in Lexington, SC.
---
Dave Diamond
Dave Diamond is a business man dedicated to the advancement of youth. Dave has served almost 20 years as the chairman of the Northern Illinois chapter of the Rotary Youth Leadership Academy; an annual opportunity to bring together some of the brightest high school minds in the region for a weekend of fun and leadership training.
Dave is well-positioned for such a task. He has served in numerous leadership roles that have taken him from board service to corporate leadership. A graduate of both Bradley University and Harvard University, Dave serves as the president of Walter Wayne Development and looks forward to working with the Rutland Institute for Ethics Advisory Board.
---
Debbie Dubose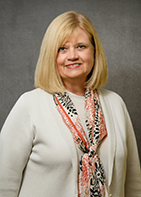 Debbie DuBose has more than 40 years of experience in community relations, public relations and public speaking.  She has been in the fundraising business for 25 of those years, working for more than 10 years for the Oconee Memorial Hospital Foundation and 15 years in alumni relations and development at Clemson University.  She currently owns and operates a consulting business offering expertise in event planning, marketing and fundraising management. 
She has served two terms as president of the Seneca Rotary Club and is a multiple Paul Harris Fellow.  She is a former member of the Association of Healthcare Philanthropy and past president of the Seneca Chamber of Commerce.  She also served in numerous volunteer leadership roles for the United Way of Oconee County.  She served as a commissioner on the Pendleton Historic and Recreation Commission for more than 20 years.  She's a previous member of the Clemson Rotary Club, received the Clemson Alumni Association  Distinguished Service Award in 2004 and is a member of Tiger Brotherhood and Blue Key. 
She is a 1975 graduate of Clemson University, is married to Bob DuBose and has two daughters, Anna and Brock. 
---
Anderson Garcia
Anderson Garcia is a Human Resource leader with over 20 years of responsible and progressive experience in Human Resource Management focusing in the areas of Manufacturing, Distribution and Engineering.  He is currently a Senior HR Business Partner for GE Gas Power where he supports several Engineering teams across the globe.  He first joined GE in 2010 as the Global HR Manager for Renewables Engineering and in 2014 moved to the Gas Power business. He serves as the HR Advisor for the Hispanic Forum Affinity group in GE Gas Power, both locally and across the business.  He has been on the United Way Board since 2017. Recently, he joined the Hispanic Alliance of Greenville Board of Directors, having served on their Internal Affairs Committee for the past year.
Prior to joining GE, Anderson worked for Bausch & Lomb in Greenville, SC as the Human Resources Manager where he led the HR function and drove key processes including staffing, talent development, compensation, benefits administration, employee relations, and community relations. He began his career with Milliken & Company as a Production/Process Improvement Manager and later broke into HR as an Education and Training Manager. In his 5 years with Milliken, he was promoted to positions of increasing responsibility for the South Carolina and Georgia plant facilities.
Anderson earned a Bachelor of Science in Textile Management from Clemson University and a Master of Science Management from Southern Wesleyan University.  He holds a Senior Professional Human Resources (SPHR) Certification from the HR Certification Institute (HRCI).
His parents immigrated from Colombia, South America to Ossining, NY where he was born. At an early age, he moved to Greenville, SC, where he continues to reside with his wife, Demie (Clemson BS '94, MBA '96), and their 2 children Elena (14) and Nicholas (11).  He is a die-hard Clemson fan and in most non-Covid years would find him tailgating at all home Clemson games.
---
HJ Hayes
Harskin "H.J." Hayes, Jr., PharmD, MLS(ASCP) is the Director of Sona Specialty Pharmacy in Asheville, NC. He is a proud cum laude graduate of Clemson University who continued his education with post baccalaureate studies in medical laboratory science, and graduated cum laude with a Doctorate of Pharmacy Degree from South Carolina College of Pharmacy-Columbia. With a passion for community pharmacy and health care advocacy, he furthered his training through a PGY-1 Community Residency with UNC Eshelman School of Pharmacy and Moose Pharmacy. Prior to his present position as director of pharmacy, he worked as an Assistant Professor of Community Pharmacy Practice at South University School of Pharmacy in Columbia, SC.
In addition to serving the community through pharmacy and advocacy, Dr. Hayes is equally committed to mentoring the next generation of pharmacists and leaders. He precepts for several schools of pharmacy in the southeast region and also serves as an alumni mentor through Clemson's FIRST program, an organization through which he was an inaugural mentor as an undergraduate student. He has had work published in both US Pharmacist and Pharmacy Today publications, is a licensed pharmacist in the states of SC, NC, TN, and VA, and is a member of Kappa Psi Pharmaceutical Fraternity, Inc.
Dr. Hayes is the youngest of three children and is a very proud uncle and godfather who enjoys stand up comedy, concerts, and spending time with family and friends. 
---
Robert J. Rutland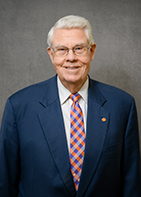 Robert J. Rutland graduated from Clemson University in 1964 with a degree in Industrial Management and is a past chairman of Allied Holdings, Inc. In 2001 he established the Robert J. Rutland Center for Ethics, which later evolved into the Robert J. Rutland Institute for Ethics. His late wife, Cherry Braswell Rutland, was a strong supporter of the Institute until her passing in 2010. The Rutlands have three daughters, one of whom is a Clemson alumna.
---
Joe Turner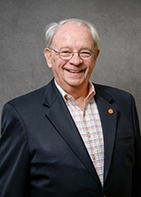 Joe Turner is chairman and chief executive officer of First Sun Management Corporation, a 47-unit Wendy's franchisee headquartered in Clemson, SC. In 30 years in the Wendy's system, Joe has led his team to Wendy's highest awards for sales, marketing and overall operations. Twice, Joe's team has been recognized as one of the best franchisees in the Wendy's system and was named Marketer of the Year in 1998 and 2002. He was inducted into The Wendy's Hall of Fame in 2007.
Joe grew up in Williston, SC and graduated from Clemson University in 1971. He received his Master's degree from Clemson in 1978. Joe also worked for Clemson University from 1971 to 1985 on the staff of the Alumni Office and as Executive Director of the Athletic Fund Raising Organization, IPTAY. Joe and his wife Cathy live in Clemson and are the parents of Jackson, Anne and Tate, and the grandparents of Kate, Hutch, Bo, Earl, Gus, Francis, and Quincy.
---
Nancy Whitworth
Nancy Whitworth recently retired after a long tenure with the City of Greenville serving as the director of economic development and deputy city manager. She was instrumental in establishing public private partnerships resulting in Greenville's successful downtown and city-wide redevelopment. She is currently a consultant and advisor for OneSpartanburg Inc, an organization dedicated to the business, economic and tourism development of Spartanburg.
She is an Abbeville County native and received her Bachelor of Arts and Master of Science degrees from Clemson University and resides in Greenville with her husband Jeff. 
Whitworth is a member of the boards of the Community Foundation of Greenville, Clemson University Advancement Board for Real Estate Development and is a South Carolina Department of Transportation Commissioner. 
Whitworth has received numerous awards throughout her career including the Order of the Palmetto, recognizing her exemplary vision and leadership as well as her achievements in economic and community revitalization.
Honorary Board Members
Harry Durham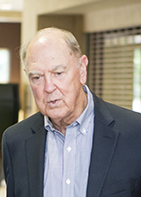 Harry Durham retired, after 30 years, from Clemson University as Associate Vice President for University Relations. After his retirement, he taught a course entitled, "Business Ethics and Communications" in Clemson's MBA program for eight years.
He has a BA from Auburn University and an MA in Mass Communications from the University of North Carolina at Chapel Hill. Prior to his work in higher education at Duke University and Clemson, Harry worked in commercial film production in Atlanta. An ROTC graduate, he served two years active duty in Germany. Harry remained in the Army Reserve for 30 years and retired as a colonel.
He is an honorary member of the Clemson University Class of 1943, for which he produced a documentary highlighting their 50th reunion. He and his wife, Ina, have two children, Kathy and Kelly; five grandchildren and two great grandchildren.
He was a charter member of the advisory board of the Rutland Institute for Ethics.
---
Kelly Durham, Chair Emeritus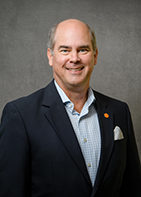 Durham recently retired from First Sun Management Corp., where he served as president and co-owner of the 47-store Wendy's franchise. During his tenure, the company was recognized by Wendy's Corp. for the best operation, best marketing and best sales in the United States.
In 2012, Durham was one of six winners of the Distinguished Service Award, the Clemson Alumni Association's highest honor. Durham is part of Clemson University's Board of Visitors and and a former member of the Board of Directors of the Clemson University Foundation, as well as the Clemson Corps. He wrote, directed and produced a documentary about the Scroll of Honor Memorial, which honors Clemson alumni who have died in service to their country. He was a member of the WestZone initiative committee.
Durham graduated from Clemson University in 1980, having received the Algernon Sydney Sullivan Award, "in recognition of the recipient's influence for good, excellence in maintaining high ideals of living and genuine service to others." Durham served in the US. Army from 1981 to 1985, stationed in Germany, attaining the rank of captain.
Durham and his wife, Yvonne, are residents of Clemson and active members of First Baptist Church. The Durhams have three daughters, Mary Kate (a Clemson graduate), Addison and Callie.
---
Sam Erwin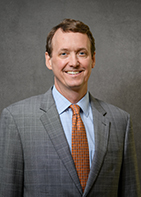 Mr. Erwin serves as Regional President – Carolinas for IBERIABANK, a regional bank that entered South Carolina in 2016 and North Carolina in 2017. In this role he leads IBERIABANK's efforts as it seeks to build out a retail and commercial banking presence in the Carolinas.
Previously, Mr. Erwin served as Chairman, President and CEO of The Palmetto Bank in Greenville, SC from 2009 until 2015. The Palmetto Bank was acquired by United Community Bank in 2015. Mr. Erwin served as a Regional President with United Community Bank until October 2016.
Mr. Erwin is a Greenwood County native and a cum laude graduate of Clemson University. He is involved in a wide variety of civic and professional organizations including serving on the Board of Directors for The South Carolina Bankers Association where he serves as its Chair, Greenville Tech Foundation where he serves as Immediate Past Board Chair, The Hollingsworth Funds where he serves as a Board Member and the Business Development Corporation of South Carolina where is a Board Member. He is a Liberty Fellowship graduate, Class of 2011 and currently serves on the Liberty Fellowship Board. He serves Clemson University through his participation on the Board of the Rutland Ethics Institute.
Mr. Erwin and his wife Meg reside in Greenville. They are the parents of two boys, Sam (22 and a recent graduate of SMU) and Patrick (19 and a student at Clemson University). He has a wide variety of interests to include traveling with his family, hunting, fishing and playing golf.
---
John C. Knapp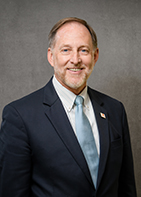 John C. Knapp, Ph.D., is the 13th president of Washington & Jefferson College and a professor of religion in the Department of Philosophy. Before joining Washington & Jefferson in 2017, Dr. Knapp was president of Hope College in Holland, Michigan, beginning his term on July 1, 2013. He also held appointments as Professor of Religion and Professor of Management.
Previously, Dr. Knapp was the founding director of Samford University Frances Marlin Mann Center for Ethics and Leadership . He served concurrently as University Professor and Mann Family Professor of Ethics and Leadership from 2008-13. Before joining Samford, Dr. Knapp was Professor and Director of the Center for Ethics and Corporate Responsibility at Georgia State University's Mack Robinson College of Business. The center was established under his leadership in 1993 (as The Southern Institute for Business and Professional Ethics).
In 2003, he was appointed by the Governor of Georgia to develop principles of ethical governance and lead training sessions for gubernatorial appointees, including the boards and senior officers of more than 50 state agencies. Earlier, he had a successful career in business, gaining extensive management experience for more than a decade as president of a corporate communication firm.
Dr. Knapp earned the Doctor of Philosophy degree, in theology and religious studies, in 1999 from the University of Wales, United Kingdom, where he was an Honorary Visiting Lecturer. Dr. Knapp's scholarly work was recognized in 2009 when he was named a fellow of the Caux Round Table. Dr. Knapp frequently speaks about the moral issues in higher education, traveling to locations such as England, Lebanon, North Korea, South Africa and Switzerland. He has been on numerous boards in Georgia and Alabama and is a charter member of the advisory board of Clemson University's Rutland Institute for Ethics.
---
Dick Sargent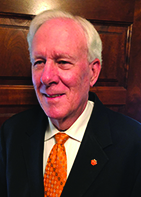 S. Richard "Dick" Sargent is the President and Owner of D & M Inc. in Greenville, SC. Now semi-retired, he grew up in Lakeland, FL before attending Clemson University. A member of the baseball team from 1961-1964, Sargent graduated from Clemson in 1965.
Following his graduation, he achieved success in the business world and was honored by being selected in 1971 as one of the Outstanding Young Men Of America. He has also been honored for his business leadership by being selected for Who's Who Worldwide, Presidential Who's Who and Princeton's Who's Who Among Business And Professional Achievers and The Heritage Registry Of Who's Who.
A supporter of Clemson, he is a member of IPTAY, a contributor to the Clemson Fund for 51 consecutive years and is a member of the Clemson Tiger Letter winners Association (now the Block "C" Club). He has served Clemson as a Committee Chair on the Commission of the Future of Clemson University and served as a Team Leader in the Baseball Fund campaign to build the new player facility. He was honored to "Throw out the First Pitch" before the Tiger's game on April 22, 2011.
Mr. Sargent and his wife Mary live in Greenville, SC and just celebrated their 52nd wedding anniversary. They have 3 children and 7 grandchildren.
---
Caroline Stewart, Chair Emeritus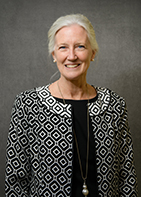 Caroline B. Stewart is retired from Louis P. Batson Company, a third generation family held business which sells machinery, spare parts and accessory items to the textile and nonwovens industries.
Stewart holds a Bachelor of Science in Textile Science from Auburn University and an Associate in Applied Science from the Fashion Institute of Technology. She began her career with Milliken & Company in their Gent, Belgium office and was with Louis P. Batson Company from 1982 until 2020.
Stewart is currently a member of the Rotary Club of Greenville and treasurer of Roper Mountain Science Center Association. Her past community involvement has been on the boards of Centre Stage, Meals on Wheels Greenville County, Roper Mountain Holiday Lights, Inc., Western South Carolina International Trade Association, YMCA's Endowment Board of Directors and as President of the Greenville High All Sports Booster Club. She is a past President of the Junior League of Greenville, Inc. and continues to remain involved in the organization.
She and her husband, Dick, are residents of Greenville and active members of Westminster Presbyterian Church. They have three grown children. Their eldest had the distinct pleasure of opening the taxi door for the Tiger Cub when he first arrived in Clemson in 1993.