J.T. Barton, Jr. Memorial Ethics Award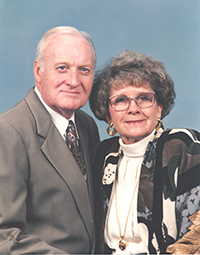 Award History
In 2001, Stephan Barton established an ethics award in honor of his late father, J.T. Barton Jr. Mr. Barton was a proud alumnus of Clemson University (Class of 1950), and passed spirit of excellence down to his son – Stephan – who is also a proud Clemson University graduate (1972). The award was originally supportive of students who could demonstrate a noteworthy understanding of the essence of an ethical dilemma, as well as excellence in strategic thinking on how to deal with the dilemma through ethical decision-making skills. It was an opportunity for students to explore an ethical issue pertinent to today's society and present a reasoned argument to back up their conclusions about it.
The award is now given to a singular student and/or a student group on the Clemson University campus who programmatically uses the award to in part or fully advance good ethical decision-making skills. Three awards are provided annually in the amounts of $1,500, $1,000, and $500. A panel of judges made up of the Rutland Institute Advisory Board Program Committee members will determine awards.
Who is J.T. Barton, Jr.? (By his son, Stephan Barton)
"J.T. Barton, Jr. was born in Greer, SC, and lived there his entire life. He graduated from Clemson in 1950, and his enthusiasm for Clemson affected the entire family, from "helping" 8 family members graduate from Clemson, to adorning his home throughout with Tiger memorabilia. After graduation, he embarked on a textile management career that demonstrated his demand for fairness and equality for his hundreds of employees, and they responded to him with loyalty, dedication, and appreciation uncommon in that environment. He treated family, friends, and employees, rich or poor, with respect and attention, always considering everyone equal. He was a model of consistency, as he lived in one city and was a member of First Baptist Church for 74 years, had one wife for 54 years, and held the same job for 41 years. His exemplary teaching and leadership has spawned countless others striving to do the right thing, always."
Award Criteria
The following criteria have been established for the J.T. Barton Jr. Memorial Ethics Award candidates:
Must be an enrolled Clemson University undergraduate or graduate student.
Must thoroughly complete the award application. Grammar will strongly be considered.
Must provide compelling evidence of programmatic intent, in part or in full, of promoting ethical decision-making in the face of ethical dilemmas.
Program must be student-focused.
Applications are accepted each year between September 1st – December 31st.
All questions should be directed to Dr. William C. McCoy at: wmccoy@clemson.edu or by calling (864) 656-6147.