Community & Student Organizations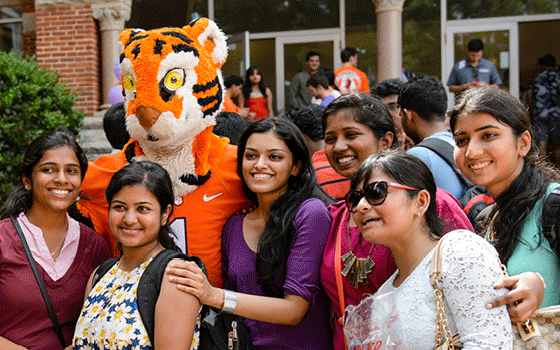 There are many undergraduate and graduate student organizations available at Clemson University. Some are based on interests, majors, or hobbies and some are also specifically for international students, graduate students, or undergraduate students. As an international student, you are welcome to contact any club or organization that you are interested in joining. A list of all clubs and organizations and their contact information can be found here.
In addition, there are also several community-run programs for international students and scholars: Clemson Friends of Internationals and Clemson Area International Friendship.
Listed below are some of Clemson's International Student Organizations
Association for India's Development
We, as AID-Clemson are one of the chapters of the country wide network of AID organizations. AID supports ground root level development projects in various rural parts of India. We conduct fund raisers and different activities to engage graduate students on campus and donate the earnings to the education project we support in West Bengal, India. Feel free to get involved as a member or a volunteer and help support development projects through various NGOs in India. Click here to contact.
---
African and Caribbean Students' Association
Our mission is to celebrate and educate the campus on African and Caribbean culture. Click here to contact.
---
Student Ambassadors Global Engagement
Our group is devoted to teaching and helping individuals learn to speak English as a second language. This is a free service that helps individuals be able to comprehend and speak the English language more fluently. Additionally we help individuals further their understanding of English so that they may be able to perform better on exams and in daily interactions in the American culture. We offer 6 language and 6 cultural classes a semester. Contact Lauren Ambuhl or Lena Nelson for more information.
---
Bangladesh Association Clemson (BAC)
BAC is an organization to promote and enhance communication and cooperation, and build relationship between the Bangladeshi community and the American people, and other Internationals in Clemson as well. Click here to contact.
---
Clemson Area International Friendship
We are a non-profit, community organization which exists to provide hospitality and support services to Clemson University's international students, visiting scholars, faculty, and their family members. CAIF aims to help international students experience American culture through the context of friendship and family. We do this mainly through connecting interested students with an American friendship partner/family. Contact CAIF President Kathy Mabry at sccaif@gmail.com or 864-710-2756 for more information.
---
International Student Association
Our mission is to foster and build relationships and understanding among all Clemson University students, staff and faculty, and between American people as a whole; and, to represent the interests of international students at various levels in the University system.
---
Society of Hispanic Professional Engineers (SHPE)
Clemson SHPE offers a club where students can connect on a social, academic, and professional level by coming together with the basic concept of Networking for everyone's benefit. Don't let the name of our organization mislead you: The Society of Hispanic Professional Engineers is an all-inclusive organization. Our membership has a diverse mix of Hispanic and non-Hispanic students, engineers and non-engineers, internationals and residents, and all STEM majors. The National SHPE Conference is the largest Hispanic Technical Conference in the Nation, and takes place once a year, attracting hundreds of employers from all different industries who are looking to hire for internships, co-ops, full-time positions, and also recruit for graduate programs. Clemson SHPE focuses on five pillars: 1) Chapter Development 2) Community Outreach 3) Leadership Development 4) Professional Development 5) Academic Excellence. These pillars are the tools that help our members become professionals and allow them to graduate successfully. Click here to contact.
---
Clemson Black Student Union
Our mission is to inform the broader community on issues relevant and important to the black community, as well as encourage an environment of diversity and inclusion. Please email cbsu@clemson.edu or racquec@g.clemson.edu for more information.
---
Cultural Ambassadors
Clemson University Cultural Ambassadors seeks to promote cultural appreciation and awareness through educational and social events. We supply the Clemson community with the opportunity to learn and accept other cultures. Contact Natalia Gonzalez Varela at ncgonza@g.clemson.edu for more information.
---
Friends of Internationals - Clemson BCM
Our mission is to welcome and show hospitality to international students. We desire to help facilitate and generate friendship, both among the internationals and between them and the local community. Our greatest desire is to introduce students to the greatest friend of all - Wonderful Counselor, Everlasting Father, Prince of Peace - His name is Jesus. For more information, please contact Jon Varner at jonvarner@bellsouth.net or (864) 723-0821. The Clemson BCM building is located at 183 Old Greenville Hwy. Clemson, SC 29631.
---
Fulbright Fellows and Friends
The FULBRIGHT FELLOWS AND FRIENDS is a diverse group with staff, students and scholars, representing all parts of the world. We strive to provide an environment to nurture an understanding between people of diverse cultural backgrounds, allowing the Fulbright fellows to live and share their Fulbright experience at Clemson. In addition, we aim to assist and facilitate new and potential Fulbright students, who have applied or consider applying to Clemson University, with form examples, interview tips and arrival assistance. Click here to contact.
---
Cross Culture Network
Our mission is to provide hospitality to international students and to be a community resource. For more information, contact Florin Palaghia at Fpalaghia@joshuasway.org or 864-320-9985.