Admissions
We're pleased that you are considering making Clemson University a part of your graduate career. The Graduate School oversees the admissions process for all graduate programs at Clemson. Criteria used in making decisions will vary according to the college and program you're applying for, but all decisions include an evaluation of your potential for graduate-level work and the ability of a program to accommodate additional students.
Have a question for Graduate Admissions or need to drop off Transcripts?
Schedule an Appointment with the Graduate Admissions office so we can be prepared to give you the best service!
Application Process Checklist:
Check out the requirements that apply to your program, so you are aware of any special deadlines, funding opportunities or other information you may need.
Apply online through a secure, web-based application system. You do not need to complete the entire application in one sitting. Once you create a UserID and password, you may begin the application, save it and return to it at a later time.
To ensure that your supporting materials (transcripts, recommendations, etc.) are properly matched with your application, we recommend that you upload documentation directly to the online application.
Check your application status any time, 24/7.
See the full details: Preparing to Apply
Typically, each academic department accepting graduate students will form an admissions committee and review all requests, then forward the committee's recommendations to the graduate school for final approval and processing.
The admissions office uses an online imaging system for departmental review of all applications and support materials. Materials are viewable by the department as they are updated on our student database and scanned into our imaging system.
There is no universal application deadline. Check with your program on their particular deadlines. Keep in mind some programs accept applicants only once a year. In addition, international students often have earlier deadlines in order to allow enough time to secure a visa.
See international applicant deadlines
Applicants are encouraged to contact academic departments and programs for additional information. See our list of programs with contact information.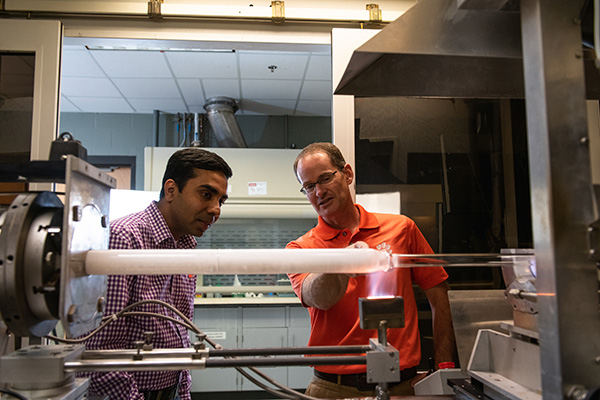 Applying To More Than One Program
While Clemson allows you to apply to more than one program, all applications at Clemson are customized to meet the needs of each specific program and are not interchangeable between programs. After you've submitted the first application and paid the application fee, you must return to the online application and, using your same UserID and password, complete a separate application for the additional program you'd like to apply to. 
For More Information or Questions
COVID-19 information for applicants and newly admitted students:
Up-to-date information about masks, testing, vaccines, etc., can be found on the University's COVID-19 FAQs web page.
If you are not able to obtain final-official transcripts due to COVID-19, contact grdapp@clemson.edu.
If you are not able to arrive in time for the beginning of the term, let your program know. If you want to defer your start term, your program can submit a Change of Term form on your behalf.  Start terms can be deferred up to one year with program approval.
If you have additional questions, please feel free to reach out to us at grdapp@clemson.edu.