Community & Student Organizations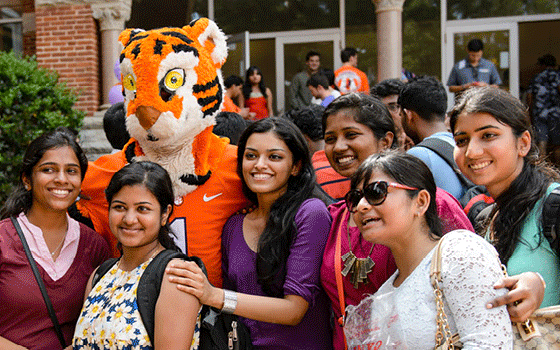 There are many undergraduate and graduate student organizations available at Clemson University. Some are based on interests, majors, or hobbies and some are also specifically for international students, graduate students, or undergraduate students. As an international student, you are welcome to contact any club or organization that you are interested in joining. A list of all clubs and organizations and their contact information can be found here.
Listed below are some of Clemson's International Student and Community Organizations
---
Clemson Indian Students' Association (CISA)
The Clemson Indian Students' Association aims to increase awareness about Indian culture, promote India and serve as a social tie for the Indian community. Click here to contact.
---
Chinese Students and Scholars Association (CSSA)
CSSA aims to facilitate Chinese students' and scholars' lives in Clemson and contribute to the development of Chinese community in the Clemson area. Click here to contact.
---
Black Graduate Student Association (BGSA)
BGSA is focused on ensuring the most encompassing experience for all graduate students of African, Caribbean, African American, and Black descent. BGSA exists to foster a supportive environment that promotes holistic development and creates opportunities for upward mobility that will empower students to achieve academically. Click here to contact and view their welcome letter here.
---
Clemson Black Student Union (CBSU)
Our mission is to inform the broader community on issues relevant and important to the black community, as well as encourage an environment of diversity and inclusion. Click here to contact.
---
Bangladesh Association Clemson (BAC)
BAC is an organization to promote and enhance communication and cooperation, and build relationships between the Bangladeshi community and the American people, and other Internationals in Clemson as well. Click here to contact.
---
Clemson Iranian Students Organization (CISO)
CISO is an organization that aims at promoting Iranian culture through the benefit of the members and the community. Click here to contact.
---
Fulbright Fellows and Friends
The FULBRIGHT FELLOWS AND FRIENDS is a diverse group with staff, students and scholars, representing all parts of the world. We strive to provide an environment to nurture an understanding between people of diverse cultural backgrounds, allowing the Fulbright fellows to live and share their Fulbright experience at Clemson. In addition, we aim to assist and facilitate new and potential Fulbright students, who have applied or consider applying to Clemson University, with form examples, interview tips and arrival assistance. Click here to contact.
---
Society of Hispanic Professional Engineers (SHPE)
Clemson SHPE's mission is to change lives by empowering the Hispanic community to realize its fullest potential and to impact the world through STEM awareness, access, support, and development. Click here to contact.
---
Clemson Area International Friendship (CAIF)
CAIF is a community organization which coordinates hospitality and support services for foreign students, faculty and visitors in the Clemson area. CAIF is a Community Section of the National Association for Foreign Student Affairs. Click here to contact. 
---
Friends of Internationals - Clemson (FOI)
FOI is a community organization that desires an opportunity to form enduring friendships built around mutual respect and trust. Our mission is to equip and mobilize local churches and their members to care for every international student. Click here to contact.
---
Cross Culture Network (CCN)
Cross Culture Network is a community organization that connects international students and scholars with the American community at large. Click here to contact.
---
Nigerian Students in Clemson
We aim to create a community for Nigerian students at Clemson University while fostering and developing connections between the university's faculty, staff, and students. Click here to contact.