Transportation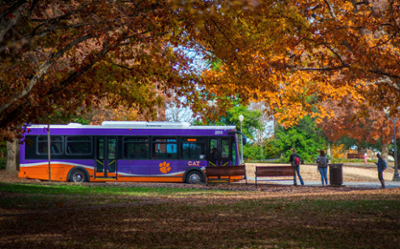 Travel to the U.S.
Plan to arrive in the U.S. no earlier than 30 days prior to the start date listed on your DS-2019 Certificate of Eligibility for J-1 visa or I-20 Certificate of Eligibility for F-1 visa.
Carry your passport with valid F or J student visa in your carry-on luggage.
If you have any other visas in your passport, be sure to present the F or J student visa issued for your Clemson program of study to the Customs and Border Patrol agent.
If you experience any travel emergencies, please contact the Clemson University's Office of Public Safety at (864) 656-2222 to reach on-call emergency staff.
Making Your Way to Clemson
By Air
Greenville-Spartanburg International Airport (GSP) is the nearest international airport. The airport is approximately 45 minutes from Clemson's campus.

Other regional, international airports include: Charlotte Douglas International Airport (CLT) and Hartsfield-Jackson Atlanta International Airport (ATL). Both of these airports are located roughly 2.5 hours away from campus. While these airports are a greater distance from Clemson's campus, international flights can sometimes be cheaper in and out of these airports rather than GSP.
Transportation from the airports
Once you arrive in the U.S., there are several options available to students traveling to our campus.
The Clemson University Tiger Transit Holiday Airport Shuttle program provides students with transportation to and from Clemson campus to Greenville-Spartanburg (GSP) and Charlotte-Douglas International Airports (CLT). This shuttle service offers a free transportation option for the various university breaks and before the start of each semester.
To reserve a seat on the shuttle, visit clemsonbus.com and follow these steps:
Create/Sign in into your account on Clemsonbus.com using your Clemson University e-mail address (your Clemson username @clemson.edu)

*Note: you may NOT use your @g.clemson.edu address
Follow the link sent to your e-mail to finish signing in
Browse the shuttle options and click "Reserve" on the shuttle of your choice

*Note: You may only sign-up for one arriving shuttle
Enter your flight departure or arrival time in the space to add notes for the organizers
Check for an e-mail to be sent to you with your reservation details after the confirmation page appears
**In the case of flight delays/cancellations, call, text, or message Tiger Transit**
If your flight is delayed, please call, text, or message Tiger Transit so that the driver can be notified.  If your flight is delayed by greater than 30 minutes, you will need to make alternate transportation arrangements or reserve a seat on the next departing shuttle, as the shuttle cannot wait for you.
Email: transit@clemson.edu
Phone: +1 864 624 2725
WhatsApp: +1 864 624 2725
Housing Information
It is important that you make long-term or temporary housing arrangements in the Clemson area prior to making a shuttle reservation.
For short term/temporary housing, you may wish to start by looking at the local chamber page for hotel options in the area.
As you look for your long-term housing, you may start your search by visiting Clemson off-campus housing page.
**To cancel a shuttle reservation**
Click "Reserved" on the shuttle posting. "Edit Reservation" will appear. Select "Cancel". You will be asked to confirm your cancellation
For more information, visit https://www.clemson.edu/campus-life/parking/students/

If Clemson University's Tiger Transit Airport Shuttle doesn't work for you, shuttle, taxi, and rental car services are available for transportation to and from the airport. The majority of these services will have fees (some may be cash only). Some of the services below may also require reservations so please keep this in mind as you make your plans to travel to Clemson. Additional Shuttle Options:
By Train
There is an Amtrak station located at the corner of Calhoun Memorial Highway and College Avenue in Clemson under the station code CSN. The Crescent Route travels through Clemson with stops connecting New York, Atlanta, and New Orleans. Please visit their website in order to review schedules and fees.
Once You're Here
The easiest way to get around campus and the surrounding areas is by riding the Clemson Area Transit bus. Always free, the CAT bus has several on-campus routes to help you get to your destination as well as routes through the city of Clemson and to the nearby cities of Anderson, Pendleton, Seneca and Central.
Tiger Commute & Tiger Connection
The distance between Clemson University and Greenville is getting shorter. The Clemson-Greenville Connection operates two 30-passenger buses equipped with free wi-fi service and bicycle racks, with service Monday through Friday connecting:
Clemson University East Library Circle on Clemson's main campus.
The Clemson University International Center for Automotive Research (CU-ICAR) This location is the park-and-ride hub and transfer location for the Tiger Commute and Tiger Connect Routes.
Clemson University Biomedical Engineering Innovation Campus at the GHS Patewood campus (CUBEInC)
Clemson at the Falls
University Center at Greenville