Caroline Dunn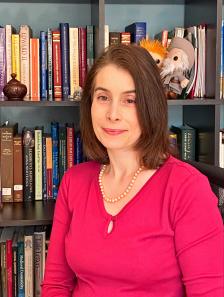 Associate Professor
Contact
Department of History
Office: 110 Hardin Hall
Phone: 864/656-3153
Email: cdunn@clemson.edu

Education
PhD, Fordham University (2007)
Courses
Medieval Europe, particularly women's roles and social networks
Caroline Dunn is a scholar of medieval Europe with a particular focus on women's roles and social networks in late medieval England. Her book, Stolen Women in Medieval England: Rape, Abduction, and Adultery c. 1100-1500 (Cambridge, 2012) offers the first comprehensive overview of women's experiences with ravishment, which ranged from forcible rape to consensual elopement and adultery, during the English Middle Ages. Professor Dunn's current research explores the lady-in-waiting in medieval England. Examining these highborn serving women reveals the nuances of soft power, social influence, and economic resources wielded by women who lacked official authority within political institutions or patriarchal households.
In addition to classes introducing students to the Middle Ages and early British Isles, Dr. Dunn teaches upper level courses on medieval women, crusades and conquests, aristocratic society, and preindustrial food. She received the Dean's award for teaching excellence in 2011 and the John B. and Thelma A. Gentry Award for teaching excellence in the Humanities in 2019. In 2016 Dr. Dunn co-organized the 5th annual Kings and Queens conference, introducing international scholars to Clemson University for the first time that the gathering was held outside of Europe. Dr Dunn was awarded the 2020 Bonnie Wheeler Fellowship to recognize and advance her scholarship.
Selected Professional Works
Books (Published)
Stolen Women in Medieval England: Rape, Abduction, and Adultery c. 1100-1500. Cambridge, Cambridge University Press, 2012.
Books (Edited)
Royal Women and Dynastic Loyalty. Edited by Caroline Dunn and Elizabeth Carney. New York: Palgrave Macmillan, 2018.
Journal Articles & Book Chapters (Published)
"Serving Isabella of France, From Queen Consort to Dowager Queen." In Elite and Royal Households in Medieval and Early Modern Europe. Edited by Theresa Earenfight. Leiden: Brill, 2018.
"'If there be any goodly young woman': Experiences of Elite Female Servants in Great Households." In Great Households, 1000-1500. Edited by C.M. Woolgar. Harlaxton Proceedings. Shaun Tyas, 2018.
"All the Queen's Ladies: Philippa of Hainault's Female Attendants." Journal of Medieval Prosopography 31 (2016).
"Forfeiting the Marriage Portion: Punishing Female Adultery in the Secular Courts of England and Italy." In Regional Variations of Matrimonial Law and Custom in Europe, 1150-1600. Edited by Mia Korpiola. Leiden and Boston: Brill, 2011.
"The Language of Ravishment in Medieval England." Speculum 86:1 (2011): 79-116.
"Prosecuting Ravishment in Thirteenth-Century England." In Thirteenth-Century England 13: England and France in the Thirteenth Century. Edited by Janet Burton, Philipp Schofield, and Björn Weiler, 67-82. Woodbridge, Sffk, Boydell & Brewer, 2011.
College of Architecture, Arts and Humanities
College of Architecture, Arts and Humanities | 108 Strode Tower, Clemson, SC 29634