Le Datta Denise Grimes, Ph.D.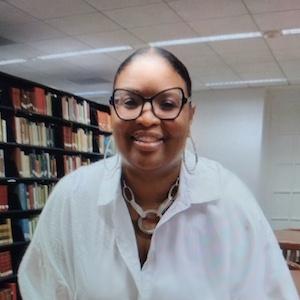 Affiliated Scholar, 2022-2024
Contact
Department of History
Email: ldgrime@clemson.edu

Education
Ph.D., University of Kentucky (2021); MA, University of Kentucky (2011)
Le Datta Denise Grimes, Ph.D. studies Black communities in the 19th and 20th centuries, and her primary concentration is on a body of schools now known as Rosenwald Schools. While popular narratives of the schools center the work of philanthropist Julius Rosenwald, who partially funded the schools, her work questions what rural Black southerners did on their own behalf, and it reveals that poor Black southerners outgave Rosenwald and played a critical role in the conception, construction, management, and upkeep of the schools.
Black agency, agenda, and desire are the focal points of her work, and she examines Black American lives through the lens of power, will, and aspiration.
In addition to her work on Rosenwald Schools, Dr. Grimes served as co-producer and co-writer of the film, Invented Before You Were Born, Bibb freedmen, a group of Black men, women, and children emancipated in 1840 by the will of Richard Bibb, which bequeathed to them land, houses, tools, and money. With their newfound freedom, they established three, free Black towns in Western Kentucky. Invented examines the lives of these freedmen - as well as a white man, Jonathan Knight, who traces his heritage back to these people.
Selected Professional Works
Books (In Production or Under Contract)
Le Datta Grimes, "Very Strong Colored Women": Black Women's Uplift, Activism and Contributions to the Rosenwald Building Program in Kentucky." In Slavery and Freedom in the Bluegrass State: Revisiting My Old Kentucky Home, edited by Gerald L. Smith. Lexington, KY: University of Kentucky Press: February 2023.
Journal Articles & Book Chapters (Published)
Le Datta Grimes "Annie Simms Banks," Women in Social Movements in the United States, Summer 2017.
College of Architecture, Arts and Humanities
College of Architecture, Arts and Humanities | 108 Strode Tower, Clemson, SC 29634