Ufuk Ersoy, Ph.D.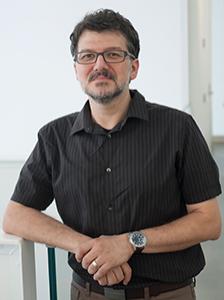 Associate Professor of Architecture / Robert Mills Professor in Architecture for 2018/19
Contact
School of Architecture
Office: Lee 3-115
Email: uersoy@clemson.edu

Education
Ph.D. in Architecture, University of Pennsylvania; M.S. in Architectural History and Theory, University of Pennsylvania; M.Arch., University of Pennsylvania; B.Arch., Dokuz Eylul University, Izmir
Ufuk Ersoy who joined the faculty in 2012, teaches history, theory and design. Before coming to Clemson School of Architecture, he taught at the University of New South Wales (2001-2012), University of Pennsylvania (2002) and Izmir Institute of Technology (2002-2012).
Ersoy completed his M. Arch., M.S. in Architectural History and Theory, and Ph.D. in Architecture degrees at the University of Pennsylvania. During his graduate studies, he won James Smith Warner Memorial Prize for "outstanding work in architectural design." His doctoral dissertation, "Seeing through Glass: The Fictive Role of Glass in Shaping Architecture from Joseph Paxton's Crystal Palace to Bruno Taut's Glashaus" compares the glass cultures of the Nineteenth and Twentieth Centuries. Parts of his dissertation have been published in proceedings and journals.
In 2010, Ersoy co-edited a special issue of the journal World Architecture on "Architecture in Turkey: A Glocal Production," with Dr. Sebnem Yucel. In 2015, he acted as the primary editor of 100 Years of Clemson Architecture: Southern Roots + Global Reach, Centennial Proceedings. Most recently, he has published his essay "Friedrichstrasse Skyscraper: Transfiguration through Glass, or Vertical and Horizontal Transparencies: Mies van der Rohe," in Companions to the History of Architecture Volume IV, edited by D. Leatherbarrow and A. Eisenschmidt. He has been invited to give lectures in different schools of art and architecture such as Newcastle University, Seoul National University, Virginia Tech, University of Maryland, College of Charleston and Washington-Alexandria Architecture Center.
Apart from his scholarly work, Ersoy participated in many architectural competitions with Clarissa Mendez. In 2010, he won a prize in Izmir Opera House competition in collaboration with Tozkoparan Architects, Izmir and Ove Arup, London.
College of Architecture, Arts and Humanities
College of Architecture, Arts and Humanities | 108 Strode Tower, Clemson, SC 29634