Roberto Risso, Ph.D.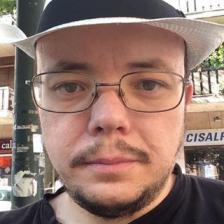 Assistant Professor of Italian
Contact
Department of Languages
Office: 301 Strode
Email: rrisso@clemson.edu

Education
Dottorato di Ricerca (Ph D) Letteratura Italiana, Università di Torino (ITA) (2010); Ph D in Italian Literature, University of Wisconsin-Madison (2015)
Roberto Risso, native of Turin, Italy, is a scholar with strong comparative interests. He mainly studies the Italian Narrative Prose in its' development trough the centuries from the Middle Ages to the third millennium. He is also very interested in history, art and literary theory.
Selected Professional Works
Books (Published)
«La penna è chiacchierona» Edmondo De Amicis e l'arte del narrare. Franco Cesati Editore, 2018
«Troppo dolce cosa da leggere…» Il romanzo epistolare italiano del Cinque e Seicento, Torino, Università degli Studi di Torino, 2013.
Journal Articles & Book Chapters (Published)
«Questo mestiere di soffrire». Foscolo, Il Carteggio Arese, l'Ortis e la via al romanzo, in Critica letteraria, XLV, III, 172, 2016, pp. 435-461.
«Scrisse la lettera e la riscrisse». Idea e pratica della scrittura epistolare di Niccolò Tommaseo, in «Favellare ai lontani». Tipologie epistolari tra Sette e Ottocento, a cura di Francesca Savoia, Firenze, Cesati, 2015, pp. 115-128.
«Io son la Turba!» La poesia di Giovanni Cena fra dolore, evoluzione e solidarietà, in Italian Poetry Review, IX, 2014, pp. 199-216
«Può darsi che ne sia uscita una forma nuova…» Romanzo della storia e dramma dell'umanità ne L'incendio di Milano di Riccardo Bacchelli, in Critica letteraria, XLII, II, 163, 2014, pp. 389-408.
Prima della FIAT.: lavoro e lavoratori, realizzazione e sfruttamento (1869-1908) nella Torino di Edmondo De Amicis, Annali d'Italianistica, 2014, pp. 155-173.
Il «graticcio della pagina informe». Racconto della lettura e lettura del racconto ne L'avventura di un lettore di Italo Calvino, in Atti e Memorie dell'Arcadia, 2, 2013, pp. 275-300.
«Come un'umanità privilegiata, come una Torino ideale». La Carrozza di tutti di Edmondo De Amicis tra studio e narrazione, in Studi Piemontesi, XLII, 2, 2013, pp. 401-413.
«Desidero presta libertà». L'epistolarità di Ferrante Pallavicino fra la Lettera dalla Prigionia (1641) e il Corriero svaligiato (1644), in Studi secenteschi, LIV, 2013, pp. 59-82.
«Then I Shall Sleep». Giovanni Cena's Gli ammonitori (1904) and Suicide as Admonition and Social (Dis)Engagement, in Voglio morire! Suicide in Italian Literature, Culture, and Society 1789-1919. Edited by Paolo L. Bernardini and Anita Virga, Newcastle upon Tyne, Cambridge Scholars Publishing, 2013, pp. 199-214.
"Un non so che di fantastico e d'immaginoso". Poetica dell'immagine e disegno della prosa ne La Sacra di San Michele di Massimo D'Azeglio, in La Fusta, XXI, 2013, pp. 48-66.
«Non voglio un ferito: voglio un massacro». La narrativa di Scerbanenco e l'ineluttabilità della violenza fra letteratura di genere e storia d'Italia, in Forme, volti e linguaggi della violenza nella cultura italiana, a cura di Federica Colleoni e Francesca Parmeggiani, Brescia, Edibom, 2012, pp. 156-170.
«A che giuoco giochiamo?» Sara Copio Sullam tra Lettere e Versi a «manifesto» di identità letteraria in Quaderni Veneti, vol. 1, n. 2, 2012, pp. 59-77.
«La patria pericolante». I romanzi storici del primo Ottocento e la formazione dell'Italia e degli Italiani, in Carte italiane, VIII, 2012, pp. 15-27.
«Conviene regolar tutto secondo le circostanze». L'Arte di piacere alle donne (1769) di Tommaso Crudeli fra echi libertini e trattatistica sul comportamento, in Italianistica, XLI, 2, 2012, pp. 51-65.
College of Architecture, Arts and Humanities
College of Architecture, Arts and Humanities | 108 Strode Tower, Clemson, SC 29634