Dennis Bausman, FAIC, CPC, LEED A.P.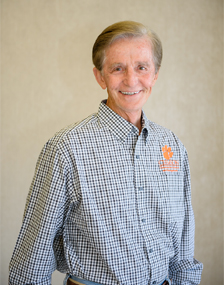 Endowed Professor
Contact
Nieri Department of Construction, Development and Planning
Office: 2-133 Lee Hall
Phone: 864-656-3919
Email: dennisb@clemson.edu

Education
Ph.D., Heriot-Watt University
Certifications/Licenses
American Institute of Constructors Certified Professional Constructor; Panel of Arbitrators for the American Arbitration Association
Experience
Over 35 years of experience in construction and construction education. Prior to joining the faculty at Clemson University was in large commercial contracting holding various positions in Executive Management, Division Manager, and Project Management for over 22 years.
Teaching Focus
Teaches undergraduate courses in scheduling, construction economics, and capstone. Also teaches graduate courses in project management, financial management, material & methods, and the contractor role in the development process.
Research Focus
Financial Management, Risk Management, Distance Education and Construction Training
Service Focus
Serves on the Board of Governors for the American Institute of Constructors Construction Certification Commission, Board for Pickens County Habitat for Humanity, International Journal of Construction Education and Research Peer Review Board, American Institute of Constructors Peer Review Board, Associated Schools of Construction Peer Review Board.
Awards
Associated General Contractors of America National Outstanding Educator Award, American Institute of Constructors W.A. Klinger Construction Education Award for Excellence in Teaching; College of AAH Dean's Award for Excellence in Teaching, Clemson University Master Teaching Award, Associated Schools in Construction National Teaching Award and Outstanding Researcher Award
College of Architecture, Arts and Humanities
College of Architecture, Arts and Humanities | 108 Strode Tower, Clemson, SC 29634