Andreea Mihalache, Ph.D.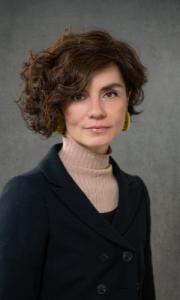 Co-Director of Architecture Graduate Programs; Associate Professor of Architecture
Contact
School of Architecture
Office: Lee 2-313
Email: amihala@clemson.edu

Education
Ph.D., Virginia Tech; Ph.D., Ion Mincu University of Architecture and Planning
Andreea Mihalache teaches architectural design, history, and theory. Before coming to Clemson she taught at Mississippi State University, Virginia Tech, Cal Poly, and The Catholic University of America.
Her areas of interest as a scholar, designer, and educator cover the history and theory of architecture, representation, and visual culture in Western and Eastern European contexts from the second half of the 20th century to the present; matters of corporeality and embodiment in architecture and visual arts; collective and individual memory; domesticity and the everyday; philosophy and aesthetics. She believes in conjectural and speculative thinking fully anchored in, and supported by, historical research. Her research has been published in edited volumes and journals and presented at national and international conferences.
Mihalache is currently working on a book manuscript provisionally titled "Boredom's Metamorphoses: Bernard Rudofsky, Robert Venturi, and Saul Steinberg," under contract with The University of Virginia Press.
College of Architecture, Arts and Humanities
College of Architecture, Arts and Humanities | 108 Strode Tower, Clemson, SC 29634