Maya Hislop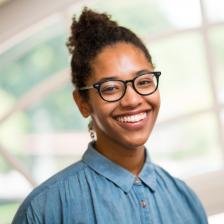 Assistant Professor
Contact
Department of English
Office: 811 Strode
Email: mhislop@clemson.edu

Education
Ph.D., University of Virginia
Courses
ENGL 4830: African American Literature 1920-present; ENGL 4590: Reading Sexual Violence and White Supremacy (Senior Seminar); ENGL 2160 African American Literature
Research Interests
African American literature, African American history, gender studies, critical rape-race studies
Maya Hislop received her PhD from the University of Virginia in 2018 where she specialized in twentieth and twenty-first African American literature. Her forthcoming book Bodies in the Middle: Black Women, Sexual Violence, and Justice (Univ. of South Carolina Press) moves a conversation about Black women and sexual violence from enslavement to the 20th century. Bodies argues that an examination of the archives of social justice movements, novels, and justice pedagogies on the same themes brings forth a definition of justice for sexual violence that centers failure, self-destruction, and the destruction of others.
Selected Professional Works
Journal Articles & Book Chapters (Published)
"I love this country, but sometimes I not sure where I am": Black Immigrant Women, Sexual Violence, and Afropessimistic Justice in New York v. Strauss-Kahn and Chimamanda Ngozi Adichie's Americanah". Law & Literature (February 4, 2020)
Reviews & Interviews
Book Review of Sexuality & Slavery: Reclaiming Intimate Histories in the Americas, Special Issue: "Reconstruction and Its Legacy: Short Fiction and Women Writers of the South," Women's Studies, January/February 2021, vol. 50, no. 1.
College of Architecture, Arts and Humanities
College of Architecture, Arts and Humanities | 108 Strode Tower, Clemson, SC 29634