Christa A. Smith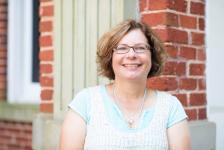 Associate Professor
Contact
Department of History
Office: 10 Hardin Hall
Phone: (864) 656-3153
Email: casmith@clemson.edu

Education
Ph.D., University of Tennessee (2000)
Courses
Geography of the South
Professor Smith, a specialist in Appalachia and Urban Geography, teaches a variety of geography courses in the department, including World Regional Geography, Economic Geography, and Geography of the American South. She also teaches Introduction to Historic Preservation. Before coming to Clemson in 2000, she taught at Marshall University in West Virginia, where she was named Geography Teacher of the Year in 1999. She is the author of numerous essays and grants, and several of her preservation projects have been recognized by the National Trust for Historic Preservation. Her current book project, Affordable Housing for All, explores the impact of Habitat for Humanity.
Selected Professional Works
Journal Articles & Book Chapters (Published)
Predicting Success or Failure on Main Street: Urban Revitalization and the Kentucky Main Street Program, 1979-1999." Southeastern Geographer, November 2002.
Flood of Emotions: Flood Hazard Perception and Adjustment in Pocahontas County, WV: 1812-1985." Proceedings of the Conference on Appalachian Geography, Manzo, J., ed. Athens, WV, 1992.
College of Architecture, Arts and Humanities
College of Architecture, Arts and Humanities | 108 Strode Tower, Clemson, SC 29634